<svg xmlns="http://www.w3.org/2000/svg" xmlns:xlink="http://www.w3.org/1999/xlink" id="bcjhzhxgnq-Layer_1" x="0px" y="0px" viewBox="0 0 55.3 68.1" style="enable-background:new 0 0 55.3 68.1;" xml:space="preserve" fill="url(#bcjhzhxgnq-design-gradient-1)"> <defs> <linearGradient id="bcjhzhxgnq-design-gradient-1" x2="0%" y2="100%" gradientUnits="userSpaceOnUse"> <stop offset="10%"></stop> <stop offset="100%"></stop> </linearGradient> </defs> <path class="bcjhzhxgnq-specialty-svg-01" d="M53,29.9l-0.1-0.1v-0.1c0,0,0,0,0-0.1l0,0l0,0c0,0,0,0-0.1,0h-0.1l-8.8,1.7l-3.4,0.7l3.1-1.6l7.9-4.1l0,0 l0.1-0.1h0c0-0.1,0-0.1,0.1-0.1v-0.1v-0.2v-0.2v0C48,15.9,41.9,7.9,35,3.3C31.3,1.1,27.7,0,24.4,0c-1.9,0-3.8,0.4-5.5,1.2l-0.2,0.1 l-0.1,0.1h-0.1l-10,5.2C7.5,7,6.7,7.6,5.9,8.3C5.7,8.5,5.6,8.7,5.8,8.9l16.3,26.1l0.3,0.4l-0.4,0.3L21.4,36L21,36.3l-0.3-0.4 l-16-25.4c-0.1-0.2-0.3-0.3-0.4-0.3c-0.2,0-0.3,0.1-0.4,0.2c-2.3,3.1-3.6,7.2-3.9,12.1c-1,14.6,7.2,32.7,18.7,41.2l0,0 c0.2,0,0.3,0.1,0.4,0.1c0.1,0,0.1,0,0.2,0l1.7-0.9l0.8-0.4l0,0.9l-0.1,1.9c0,0.2,0.1,0.4,0.2,0.4l0,0l0,0c3,1.7,6.1,2.5,9,2.5 c2,0,3.9-0.5,5.7-1.3l10.2-5.2c4.9-2.5,7.9-8.1,8.5-15.8l0-0.3c0-5.7-0.7-10.9-2.1-15.4C53.1,30,53,29.9,53,29.9z M45.7,31.9 l3.6-0.7L46,32.9l-3.8,1.9l-0.1,0l-0.1,0L30.7,37l-3.6,0.7l3.3-1.6l3.8-1.9l0.1,0l0.1,0L45.7,31.9z M43.9,46.6l0.2,2.5l-1.1-2.2 l-4.7-9.6l-0.3-0.6l0.6-0.1l3-0.6l0.6-0.1v0.5c0,0.1,0.1,0.2,0.1,0.4v0C43.1,39.8,43.7,43.1,43.9,46.6z M43.7,51.1l0,0.1 c-0.1,2.6-0.7,5.2-1.6,7.5l-0.4,1l-0.5-1l-9.7-20.2L31.1,38l0.6-0.1l4.7-0.9l0.4-0.1l0.2,0.3L43.6,51L43.7,51.1z M14.9,4.4l4.2-2.2 C20.7,1.4,22.5,1,24.3,1c3.2,0,6.6,1.2,10,3.4c6.6,4.3,12.3,11.7,16.1,20.8l0.2,0.4l-0.4,0.2l-8.5,4.3l-0.5,0.2l-0.2-0.5 C37.1,20.8,31.2,13,24.5,8.7c-3.3-2.1-6.4-3.2-9.4-3.4l-1.8-0.1L14.9,4.4z M7.1,9.2L6.8,8.8l0.3-0.3C7.6,8.2,8,8,8.4,7.7 c0.1-0.1,0.3-0.2,0.4-0.2c1.6-0.8,3.3-1.2,5.2-1.2c3.1,0,6.5,1.2,9.9,3.3c6.4,4.1,12.2,11.6,16,20.5l0.2,0.6l-0.6,0.1l-16.5,3.3 l-0.3,0.1l-0.2-0.3L7.1,9.2z M18.6,61.4l-0.1,1l-0.8-0.6C7.2,52.9,0,36.1,1,22.6c0.3-4.2,1.3-7.6,2.9-10.2l0.4-0.7l0.4,0.7L20.2,37 l0.1,0.1l0,0.2L18.6,61.4z M22,61.4l-0.3,0.1L20.2,62l-0.7,0.3l0.1-0.8l1.7-24l0-0.3l0.3-0.1l5.3-2.7l0.1,0l0.1,0l4.1-0.8l3.5-0.7 l-3.1,1.6l-7.7,4c0,0-0.1,0-0.1,0.1v0l-0.1,0.1v0.2l-0.9,13.2l0,0.1v0.5L22,61.1L22,61.4z M28.4,67c-2-0.3-3.8-1-5.6-2l-0.3-0.2 l0-0.3l0.5-8.3l0.1-1.9l0.8,1.7l4.9,10.2l0.4,0.9L28.4,67z M35.6,66.1c-1.3,0.7-2.9,1-4.8,1.2l-0.3,0l-0.1-0.3l-6.9-14.4l0-0.1v-0.1 v-0.2V52l0.6-9.1l0.1-1.9l0.8,1.7l10.9,22.7l0.2,0.4L35.6,66.1z M40.2,62.2L40.2,62.2c-0.7,1-1.6,1.9-2.7,2.8L37,65.4l-0.3-0.6 l-12-24.9l-0.3-0.6l0.6-0.1l4.7-1l0.4-0.1l0.2,0.4l10.6,22.1l0.1,0.2L40.9,61c-0.1,0.2-0.3,0.4-0.4,0.6C40.4,61.8,40.3,62,40.2,62.2 L40.2,62.2z M54,45.7c-0.5,7.3-3.4,12.8-8,15l-4,2l-1.7,0.8l1-1.5c1.9-2.9,3-6.7,3.3-11l0-0.3c0.3-4.7-0.3-9.7-1.6-14.5l0-0.1v-0.1 v-0.1c0,0,0,0,0,0c0,0,0,0,0,0c0-0.1-0.1-0.2-0.1-0.4v-0.3l0.3-0.1l8.4-4.3l0.5-0.3l0.2,0.6c1.3,4.5,1.8,9.3,1.6,14.2L54,45.7z"></path> </svg>
<svg xmlns="http://www.w3.org/2000/svg" xmlns:xlink="http://www.w3.org/1999/xlink" id="lirsjbkfgl-Layer_1" x="0px" y="0px" viewBox="0 0 57.7 68.2" style="enable-background:new 0 0 57.7 68.2;" xml:space="preserve" fill="url(#lirsjbkfgl-design-gradient-2)"> <defs> <linearGradient id="lirsjbkfgl-design-gradient-2" x2="0%" y2="100%" gradientUnits="userSpaceOnUse"> <stop offset="10%"></stop> <stop offset="100%"></stop> </linearGradient> </defs> <path class="lirsjbkfgl-specialty-svg-02" d="M38,12.3L38,12.3L38,12.3c-0.1-0.1-0.2-0.1-0.2-0.1c0,0-0.1,0-0.1,0l-0.1,0c-0.1,0-0.1,0-0.1,0c0,0-0.1,0-0.1,0 L33.9,14l-0.8,0.4l0-0.9l0.5-9.2c0,0,0,0,0-0.1l0,0l0,0c0-0.1,0-0.1,0-0.2l0,0c0,0-0.1-0.1-0.1-0.1l0,0l-0.1-0.1 C29.3,1.4,25.3,0,21.7,0c-1.8,0-3.5,0.3-4.9,1l-0.1,0l0,0l-0.1,0.1l0,0l0,0l0,0L6.2,6.4c0,0,0,0-0.1,0L5.9,6.6c0,0-0.1,0-0.1,0.1 c-3.3,1.7-5.3,5.3-5.6,10L0,19.9c0,0.2,0.1,0.4,0.2,0.5l7.9,4.9l0.7,0.5L8,26.1l-3.3,1.7l0,0c0,0-0.1,0.1-0.1,0.1 c-0.1,0.1-0.1,0.2-0.1,0.3c-0.7,12.9,8.1,29.3,19.7,36.5c3.6,2.2,7.2,3.4,10.5,3.4c1.7,0,3.3-0.3,4.8-1l0,0l0,0c0,0,0.1,0,0.1,0 l0.3-0.1c0,0,0.1,0,0.1,0l0.1-0.1L51,61.4c4-2.2,6.3-6.6,6.6-12.6C58.4,36,49.5,19.7,38,12.3z M20.8,14.4l-3-5.5l-0.7-1.3l1.3,0.6 c1.1,0.5,2.2,1,3.2,1.7l0.3,0.2l0,0.3l-0.2,3.8L21.7,16L20.8,14.4z M21.6,17.9l0,0.1l-0.3,6.2L21.1,26l-0.8-1.6L10.9,7.2l-0.4-0.8 l0.9,0c1.3,0,2.7,0.3,4.2,0.7l0.2,0.1l0.1,0.2l5.6,10.4L21.6,17.9z M21.8,31.2L23,10.4l0-0.3l0.3-0.1l8.6-4.4l0.8-0.4l0,0.9 l-0.5,8.6l0,0.3l-0.3,0.1l-5.1,2.6l0,0c0,0-0.1,0.1-0.1,0.1c-0.1,0.1-0.1,0.1-0.1,0.2l0,0c0,0,0,0.1,0,0.1l-0.6,11.6l0,0.3l-0.3,0.1 l-3,1.5l-0.8,0.4L21.8,31.2z M12.1,4.6L17,2c1.4-0.7,2.9-1,4.7-1c2.9,0,6.2,1,9.6,2.9l0.8,0.5l-0.8,0.4l-8.6,4.4l-0.2,0.1l-0.2-0.1 c-3.5-2.1-6.9-3.3-10-3.6l-1.7-0.1L12.1,4.6z M5.8,7.8c0,0,0.1-0.1,0.1-0.1C6,7.6,6.1,7.6,6.2,7.5C7.1,7.1,8,6.8,9.1,6.6l0.4-0.1 l0.2,0.3l11.3,21l0.1,0.1l0,0.1l-0.2,3.1l0,0.8l-0.7-0.4l-2.8-1.8l-0.1-0.1l-0.1-0.1L5.7,8.6c0,0,0-0.1-0.1-0.1L5.3,8.1L5.8,7.8z M4.8,22l-3.5-2.2L1,19.7l0-0.3l0.1-2.6c0-0.4,0.1-0.8,0.1-1.2l0.2-1.5l0.7,1.4l3.3,6.1L6.4,23L4.8,22z M8.2,24.2l-0.1-0.1L8.1,24 L2.3,13.3c0-0.1-0.1-0.1-0.1-0.2l-0.3-0.2L2,12.6c0.5-1.4,1.2-2.6,2.1-3.5l0.5-0.5l0.3,0.6L14.5,27l0.9,1.7l-1.6-1L8.2,24.2z M6.8,27.9l2.8-1.4l0.3-0.1l0.2,0.2l10.9,6.8l0,0c0.1,0.1,0.2,0.1,0.3,0.1c0.1,0,0.2,0,0.2-0.1l3.5-1.8l0.8-0.4l0,0.9l-0.4,7.5 l0,0.8l-0.7-0.4L6.8,28.8L6,28.3L6.8,27.9z M39.7,66l-0.2,0.1c-1.4,0.7-3.1,1.1-4.8,1.1c-3.1,0-6.6-1.1-10-3.3 C14.1,57.2,5.6,42.4,5.5,30l0-0.9l0.8,0.5l11.4,7.2l0,0l0.1,0l7.7,4.8c0.1,0.1,0.2,0.1,0.3,0.1c0.1,0,0.2,0,0.2-0.1 c0.2-0.1,0.3-0.2,0.3-0.4l1.2-21.3l0.1-0.9l0.7,0.5C38.6,27.1,46.6,42.6,46,54.2C45.6,59.8,43.4,64,39.7,66z M56.6,48.7 c-0.3,5.6-2.5,9.8-6.1,11.7l0,0l0,0l-5.1,2.6l-1.5,0.8l0.8-1.5c1.3-2.2,2-5,2.2-8.2c0.7-12.1-7.4-27.7-18.3-35.6L28,18.2l0.7-0.4 l8.7-4.4l0.3-0.1l0.2,0.2C48.9,20.8,57.3,36.6,56.6,48.7z"></path> </svg>
<svg xmlns="http://www.w3.org/2000/svg" xmlns:xlink="http://www.w3.org/1999/xlink" id="lirsjbkfgl-Layer_1" x="0px" y="0px" viewBox="0 0 57.7 68.2" style="enable-background:new 0 0 57.7 68.2;" xml:space="preserve" fill="url(#lirsjbkfgl-design-gradient-2)"> <defs> <linearGradient id="lirsjbkfgl-design-gradient-2" x2="0%" y2="100%" gradientUnits="userSpaceOnUse"> <stop offset="10%"></stop> <stop offset="100%"></stop> </linearGradient> </defs> <path class="lirsjbkfgl-specialty-svg-02" d="M38,12.3L38,12.3L38,12.3c-0.1-0.1-0.2-0.1-0.2-0.1c0,0-0.1,0-0.1,0l-0.1,0c-0.1,0-0.1,0-0.1,0c0,0-0.1,0-0.1,0 L33.9,14l-0.8,0.4l0-0.9l0.5-9.2c0,0,0,0,0-0.1l0,0l0,0c0-0.1,0-0.1,0-0.2l0,0c0,0-0.1-0.1-0.1-0.1l0,0l-0.1-0.1 C29.3,1.4,25.3,0,21.7,0c-1.8,0-3.5,0.3-4.9,1l-0.1,0l0,0l-0.1,0.1l0,0l0,0l0,0L6.2,6.4c0,0,0,0-0.1,0L5.9,6.6c0,0-0.1,0-0.1,0.1 c-3.3,1.7-5.3,5.3-5.6,10L0,19.9c0,0.2,0.1,0.4,0.2,0.5l7.9,4.9l0.7,0.5L8,26.1l-3.3,1.7l0,0c0,0-0.1,0.1-0.1,0.1 c-0.1,0.1-0.1,0.2-0.1,0.3c-0.7,12.9,8.1,29.3,19.7,36.5c3.6,2.2,7.2,3.4,10.5,3.4c1.7,0,3.3-0.3,4.8-1l0,0l0,0c0,0,0.1,0,0.1,0 l0.3-0.1c0,0,0.1,0,0.1,0l0.1-0.1L51,61.4c4-2.2,6.3-6.6,6.6-12.6C58.4,36,49.5,19.7,38,12.3z M20.8,14.4l-3-5.5l-0.7-1.3l1.3,0.6 c1.1,0.5,2.2,1,3.2,1.7l0.3,0.2l0,0.3l-0.2,3.8L21.7,16L20.8,14.4z M21.6,17.9l0,0.1l-0.3,6.2L21.1,26l-0.8-1.6L10.9,7.2l-0.4-0.8 l0.9,0c1.3,0,2.7,0.3,4.2,0.7l0.2,0.1l0.1,0.2l5.6,10.4L21.6,17.9z M21.8,31.2L23,10.4l0-0.3l0.3-0.1l8.6-4.4l0.8-0.4l0,0.9 l-0.5,8.6l0,0.3l-0.3,0.1l-5.1,2.6l0,0c0,0-0.1,0.1-0.1,0.1c-0.1,0.1-0.1,0.1-0.1,0.2l0,0c0,0,0,0.1,0,0.1l-0.6,11.6l0,0.3l-0.3,0.1 l-3,1.5l-0.8,0.4L21.8,31.2z M12.1,4.6L17,2c1.4-0.7,2.9-1,4.7-1c2.9,0,6.2,1,9.6,2.9l0.8,0.5l-0.8,0.4l-8.6,4.4l-0.2,0.1l-0.2-0.1 c-3.5-2.1-6.9-3.3-10-3.6l-1.7-0.1L12.1,4.6z M5.8,7.8c0,0,0.1-0.1,0.1-0.1C6,7.6,6.1,7.6,6.2,7.5C7.1,7.1,8,6.8,9.1,6.6l0.4-0.1 l0.2,0.3l11.3,21l0.1,0.1l0,0.1l-0.2,3.1l0,0.8l-0.7-0.4l-2.8-1.8l-0.1-0.1l-0.1-0.1L5.7,8.6c0,0,0-0.1-0.1-0.1L5.3,8.1L5.8,7.8z M4.8,22l-3.5-2.2L1,19.7l0-0.3l0.1-2.6c0-0.4,0.1-0.8,0.1-1.2l0.2-1.5l0.7,1.4l3.3,6.1L6.4,23L4.8,22z M8.2,24.2l-0.1-0.1L8.1,24 L2.3,13.3c0-0.1-0.1-0.1-0.1-0.2l-0.3-0.2L2,12.6c0.5-1.4,1.2-2.6,2.1-3.5l0.5-0.5l0.3,0.6L14.5,27l0.9,1.7l-1.6-1L8.2,24.2z M6.8,27.9l2.8-1.4l0.3-0.1l0.2,0.2l10.9,6.8l0,0c0.1,0.1,0.2,0.1,0.3,0.1c0.1,0,0.2,0,0.2-0.1l3.5-1.8l0.8-0.4l0,0.9l-0.4,7.5 l0,0.8l-0.7-0.4L6.8,28.8L6,28.3L6.8,27.9z M39.7,66l-0.2,0.1c-1.4,0.7-3.1,1.1-4.8,1.1c-3.1,0-6.6-1.1-10-3.3 C14.1,57.2,5.6,42.4,5.5,30l0-0.9l0.8,0.5l11.4,7.2l0,0l0.1,0l7.7,4.8c0.1,0.1,0.2,0.1,0.3,0.1c0.1,0,0.2,0,0.2-0.1 c0.2-0.1,0.3-0.2,0.3-0.4l1.2-21.3l0.1-0.9l0.7,0.5C38.6,27.1,46.6,42.6,46,54.2C45.6,59.8,43.4,64,39.7,66z M56.6,48.7 c-0.3,5.6-2.5,9.8-6.1,11.7l0,0l0,0l-5.1,2.6l-1.5,0.8l0.8-1.5c1.3-2.2,2-5,2.2-8.2c0.7-12.1-7.4-27.7-18.3-35.6L28,18.2l0.7-0.4 l8.7-4.4l0.3-0.1l0.2,0.2C48.9,20.8,57.3,36.6,56.6,48.7z"></path> </svg>
<svg xmlns="http://www.w3.org/2000/svg" xmlns:xlink="http://www.w3.org/1999/xlink" id="bcjhzhxgnq-Layer_1" x="0px" y="0px" viewBox="0 0 55.3 68.1" style="enable-background:new 0 0 55.3 68.1;" xml:space="preserve" fill="url(#bcjhzhxgnq-design-gradient-1)"> <defs> <linearGradient id="bcjhzhxgnq-design-gradient-1" x2="0%" y2="100%" gradientUnits="userSpaceOnUse"> <stop offset="10%"></stop> <stop offset="100%"></stop> </linearGradient> </defs> <path class="bcjhzhxgnq-specialty-svg-01" d="M53,29.9l-0.1-0.1v-0.1c0,0,0,0,0-0.1l0,0l0,0c0,0,0,0-0.1,0h-0.1l-8.8,1.7l-3.4,0.7l3.1-1.6l7.9-4.1l0,0 l0.1-0.1h0c0-0.1,0-0.1,0.1-0.1v-0.1v-0.2v-0.2v0C48,15.9,41.9,7.9,35,3.3C31.3,1.1,27.7,0,24.4,0c-1.9,0-3.8,0.4-5.5,1.2l-0.2,0.1 l-0.1,0.1h-0.1l-10,5.2C7.5,7,6.7,7.6,5.9,8.3C5.7,8.5,5.6,8.7,5.8,8.9l16.3,26.1l0.3,0.4l-0.4,0.3L21.4,36L21,36.3l-0.3-0.4 l-16-25.4c-0.1-0.2-0.3-0.3-0.4-0.3c-0.2,0-0.3,0.1-0.4,0.2c-2.3,3.1-3.6,7.2-3.9,12.1c-1,14.6,7.2,32.7,18.7,41.2l0,0 c0.2,0,0.3,0.1,0.4,0.1c0.1,0,0.1,0,0.2,0l1.7-0.9l0.8-0.4l0,0.9l-0.1,1.9c0,0.2,0.1,0.4,0.2,0.4l0,0l0,0c3,1.7,6.1,2.5,9,2.5 c2,0,3.9-0.5,5.7-1.3l10.2-5.2c4.9-2.5,7.9-8.1,8.5-15.8l0-0.3c0-5.7-0.7-10.9-2.1-15.4C53.1,30,53,29.9,53,29.9z M45.7,31.9 l3.6-0.7L46,32.9l-3.8,1.9l-0.1,0l-0.1,0L30.7,37l-3.6,0.7l3.3-1.6l3.8-1.9l0.1,0l0.1,0L45.7,31.9z M43.9,46.6l0.2,2.5l-1.1-2.2 l-4.7-9.6l-0.3-0.6l0.6-0.1l3-0.6l0.6-0.1v0.5c0,0.1,0.1,0.2,0.1,0.4v0C43.1,39.8,43.7,43.1,43.9,46.6z M43.7,51.1l0,0.1 c-0.1,2.6-0.7,5.2-1.6,7.5l-0.4,1l-0.5-1l-9.7-20.2L31.1,38l0.6-0.1l4.7-0.9l0.4-0.1l0.2,0.3L43.6,51L43.7,51.1z M14.9,4.4l4.2-2.2 C20.7,1.4,22.5,1,24.3,1c3.2,0,6.6,1.2,10,3.4c6.6,4.3,12.3,11.7,16.1,20.8l0.2,0.4l-0.4,0.2l-8.5,4.3l-0.5,0.2l-0.2-0.5 C37.1,20.8,31.2,13,24.5,8.7c-3.3-2.1-6.4-3.2-9.4-3.4l-1.8-0.1L14.9,4.4z M7.1,9.2L6.8,8.8l0.3-0.3C7.6,8.2,8,8,8.4,7.7 c0.1-0.1,0.3-0.2,0.4-0.2c1.6-0.8,3.3-1.2,5.2-1.2c3.1,0,6.5,1.2,9.9,3.3c6.4,4.1,12.2,11.6,16,20.5l0.2,0.6l-0.6,0.1l-16.5,3.3 l-0.3,0.1l-0.2-0.3L7.1,9.2z M18.6,61.4l-0.1,1l-0.8-0.6C7.2,52.9,0,36.1,1,22.6c0.3-4.2,1.3-7.6,2.9-10.2l0.4-0.7l0.4,0.7L20.2,37 l0.1,0.1l0,0.2L18.6,61.4z M22,61.4l-0.3,0.1L20.2,62l-0.7,0.3l0.1-0.8l1.7-24l0-0.3l0.3-0.1l5.3-2.7l0.1,0l0.1,0l4.1-0.8l3.5-0.7 l-3.1,1.6l-7.7,4c0,0-0.1,0-0.1,0.1v0l-0.1,0.1v0.2l-0.9,13.2l0,0.1v0.5L22,61.1L22,61.4z M28.4,67c-2-0.3-3.8-1-5.6-2l-0.3-0.2 l0-0.3l0.5-8.3l0.1-1.9l0.8,1.7l4.9,10.2l0.4,0.9L28.4,67z M35.6,66.1c-1.3,0.7-2.9,1-4.8,1.2l-0.3,0l-0.1-0.3l-6.9-14.4l0-0.1v-0.1 v-0.2V52l0.6-9.1l0.1-1.9l0.8,1.7l10.9,22.7l0.2,0.4L35.6,66.1z M40.2,62.2L40.2,62.2c-0.7,1-1.6,1.9-2.7,2.8L37,65.4l-0.3-0.6 l-12-24.9l-0.3-0.6l0.6-0.1l4.7-1l0.4-0.1l0.2,0.4l10.6,22.1l0.1,0.2L40.9,61c-0.1,0.2-0.3,0.4-0.4,0.6C40.4,61.8,40.3,62,40.2,62.2 L40.2,62.2z M54,45.7c-0.5,7.3-3.4,12.8-8,15l-4,2l-1.7,0.8l1-1.5c1.9-2.9,3-6.7,3.3-11l0-0.3c0.3-4.7-0.3-9.7-1.6-14.5l0-0.1v-0.1 v-0.1c0,0,0,0,0,0c0,0,0,0,0,0c0-0.1-0.1-0.2-0.1-0.4v-0.3l0.3-0.1l8.4-4.3l0.5-0.3l0.2,0.6c1.3,4.5,1.8,9.3,1.6,14.2L54,45.7z"></path> </svg>
<svg xmlns="http://www.w3.org/2000/svg" xmlns:xlink="http://www.w3.org/1999/xlink" id="bcjhzhxgnq-Layer_1" x="0px" y="0px" viewBox="0 0 55.3 68.1" style="enable-background:new 0 0 55.3 68.1;" xml:space="preserve" fill="url(#bcjhzhxgnq-design-gradient-1)"> <defs> <linearGradient id="bcjhzhxgnq-design-gradient-1" x2="0%" y2="100%" gradientUnits="userSpaceOnUse"> <stop offset="10%"></stop> <stop offset="100%"></stop> </linearGradient> </defs> <path class="bcjhzhxgnq-specialty-svg-01" d="M53,29.9l-0.1-0.1v-0.1c0,0,0,0,0-0.1l0,0l0,0c0,0,0,0-0.1,0h-0.1l-8.8,1.7l-3.4,0.7l3.1-1.6l7.9-4.1l0,0 l0.1-0.1h0c0-0.1,0-0.1,0.1-0.1v-0.1v-0.2v-0.2v0C48,15.9,41.9,7.9,35,3.3C31.3,1.1,27.7,0,24.4,0c-1.9,0-3.8,0.4-5.5,1.2l-0.2,0.1 l-0.1,0.1h-0.1l-10,5.2C7.5,7,6.7,7.6,5.9,8.3C5.7,8.5,5.6,8.7,5.8,8.9l16.3,26.1l0.3,0.4l-0.4,0.3L21.4,36L21,36.3l-0.3-0.4 l-16-25.4c-0.1-0.2-0.3-0.3-0.4-0.3c-0.2,0-0.3,0.1-0.4,0.2c-2.3,3.1-3.6,7.2-3.9,12.1c-1,14.6,7.2,32.7,18.7,41.2l0,0 c0.2,0,0.3,0.1,0.4,0.1c0.1,0,0.1,0,0.2,0l1.7-0.9l0.8-0.4l0,0.9l-0.1,1.9c0,0.2,0.1,0.4,0.2,0.4l0,0l0,0c3,1.7,6.1,2.5,9,2.5 c2,0,3.9-0.5,5.7-1.3l10.2-5.2c4.9-2.5,7.9-8.1,8.5-15.8l0-0.3c0-5.7-0.7-10.9-2.1-15.4C53.1,30,53,29.9,53,29.9z M45.7,31.9 l3.6-0.7L46,32.9l-3.8,1.9l-0.1,0l-0.1,0L30.7,37l-3.6,0.7l3.3-1.6l3.8-1.9l0.1,0l0.1,0L45.7,31.9z M43.9,46.6l0.2,2.5l-1.1-2.2 l-4.7-9.6l-0.3-0.6l0.6-0.1l3-0.6l0.6-0.1v0.5c0,0.1,0.1,0.2,0.1,0.4v0C43.1,39.8,43.7,43.1,43.9,46.6z M43.7,51.1l0,0.1 c-0.1,2.6-0.7,5.2-1.6,7.5l-0.4,1l-0.5-1l-9.7-20.2L31.1,38l0.6-0.1l4.7-0.9l0.4-0.1l0.2,0.3L43.6,51L43.7,51.1z M14.9,4.4l4.2-2.2 C20.7,1.4,22.5,1,24.3,1c3.2,0,6.6,1.2,10,3.4c6.6,4.3,12.3,11.7,16.1,20.8l0.2,0.4l-0.4,0.2l-8.5,4.3l-0.5,0.2l-0.2-0.5 C37.1,20.8,31.2,13,24.5,8.7c-3.3-2.1-6.4-3.2-9.4-3.4l-1.8-0.1L14.9,4.4z M7.1,9.2L6.8,8.8l0.3-0.3C7.6,8.2,8,8,8.4,7.7 c0.1-0.1,0.3-0.2,0.4-0.2c1.6-0.8,3.3-1.2,5.2-1.2c3.1,0,6.5,1.2,9.9,3.3c6.4,4.1,12.2,11.6,16,20.5l0.2,0.6l-0.6,0.1l-16.5,3.3 l-0.3,0.1l-0.2-0.3L7.1,9.2z M18.6,61.4l-0.1,1l-0.8-0.6C7.2,52.9,0,36.1,1,22.6c0.3-4.2,1.3-7.6,2.9-10.2l0.4-0.7l0.4,0.7L20.2,37 l0.1,0.1l0,0.2L18.6,61.4z M22,61.4l-0.3,0.1L20.2,62l-0.7,0.3l0.1-0.8l1.7-24l0-0.3l0.3-0.1l5.3-2.7l0.1,0l0.1,0l4.1-0.8l3.5-0.7 l-3.1,1.6l-7.7,4c0,0-0.1,0-0.1,0.1v0l-0.1,0.1v0.2l-0.9,13.2l0,0.1v0.5L22,61.1L22,61.4z M28.4,67c-2-0.3-3.8-1-5.6-2l-0.3-0.2 l0-0.3l0.5-8.3l0.1-1.9l0.8,1.7l4.9,10.2l0.4,0.9L28.4,67z M35.6,66.1c-1.3,0.7-2.9,1-4.8,1.2l-0.3,0l-0.1-0.3l-6.9-14.4l0-0.1v-0.1 v-0.2V52l0.6-9.1l0.1-1.9l0.8,1.7l10.9,22.7l0.2,0.4L35.6,66.1z M40.2,62.2L40.2,62.2c-0.7,1-1.6,1.9-2.7,2.8L37,65.4l-0.3-0.6 l-12-24.9l-0.3-0.6l0.6-0.1l4.7-1l0.4-0.1l0.2,0.4l10.6,22.1l0.1,0.2L40.9,61c-0.1,0.2-0.3,0.4-0.4,0.6C40.4,61.8,40.3,62,40.2,62.2 L40.2,62.2z M54,45.7c-0.5,7.3-3.4,12.8-8,15l-4,2l-1.7,0.8l1-1.5c1.9-2.9,3-6.7,3.3-11l0-0.3c0.3-4.7-0.3-9.7-1.6-14.5l0-0.1v-0.1 v-0.1c0,0,0,0,0,0c0,0,0,0,0,0c0-0.1-0.1-0.2-0.1-0.4v-0.3l0.3-0.1l8.4-4.3l0.5-0.3l0.2,0.6c1.3,4.5,1.8,9.3,1.6,14.2L54,45.7z"></path> </svg>
<svg xmlns="http://www.w3.org/2000/svg" xmlns:xlink="http://www.w3.org/1999/xlink" id="lirsjbkfgl-Layer_1" x="0px" y="0px" viewBox="0 0 57.7 68.2" style="enable-background:new 0 0 57.7 68.2;" xml:space="preserve" fill="url(#lirsjbkfgl-design-gradient-2)"> <defs> <linearGradient id="lirsjbkfgl-design-gradient-2" x2="0%" y2="100%" gradientUnits="userSpaceOnUse"> <stop offset="10%"></stop> <stop offset="100%"></stop> </linearGradient> </defs> <path class="lirsjbkfgl-specialty-svg-02" d="M38,12.3L38,12.3L38,12.3c-0.1-0.1-0.2-0.1-0.2-0.1c0,0-0.1,0-0.1,0l-0.1,0c-0.1,0-0.1,0-0.1,0c0,0-0.1,0-0.1,0 L33.9,14l-0.8,0.4l0-0.9l0.5-9.2c0,0,0,0,0-0.1l0,0l0,0c0-0.1,0-0.1,0-0.2l0,0c0,0-0.1-0.1-0.1-0.1l0,0l-0.1-0.1 C29.3,1.4,25.3,0,21.7,0c-1.8,0-3.5,0.3-4.9,1l-0.1,0l0,0l-0.1,0.1l0,0l0,0l0,0L6.2,6.4c0,0,0,0-0.1,0L5.9,6.6c0,0-0.1,0-0.1,0.1 c-3.3,1.7-5.3,5.3-5.6,10L0,19.9c0,0.2,0.1,0.4,0.2,0.5l7.9,4.9l0.7,0.5L8,26.1l-3.3,1.7l0,0c0,0-0.1,0.1-0.1,0.1 c-0.1,0.1-0.1,0.2-0.1,0.3c-0.7,12.9,8.1,29.3,19.7,36.5c3.6,2.2,7.2,3.4,10.5,3.4c1.7,0,3.3-0.3,4.8-1l0,0l0,0c0,0,0.1,0,0.1,0 l0.3-0.1c0,0,0.1,0,0.1,0l0.1-0.1L51,61.4c4-2.2,6.3-6.6,6.6-12.6C58.4,36,49.5,19.7,38,12.3z M20.8,14.4l-3-5.5l-0.7-1.3l1.3,0.6 c1.1,0.5,2.2,1,3.2,1.7l0.3,0.2l0,0.3l-0.2,3.8L21.7,16L20.8,14.4z M21.6,17.9l0,0.1l-0.3,6.2L21.1,26l-0.8-1.6L10.9,7.2l-0.4-0.8 l0.9,0c1.3,0,2.7,0.3,4.2,0.7l0.2,0.1l0.1,0.2l5.6,10.4L21.6,17.9z M21.8,31.2L23,10.4l0-0.3l0.3-0.1l8.6-4.4l0.8-0.4l0,0.9 l-0.5,8.6l0,0.3l-0.3,0.1l-5.1,2.6l0,0c0,0-0.1,0.1-0.1,0.1c-0.1,0.1-0.1,0.1-0.1,0.2l0,0c0,0,0,0.1,0,0.1l-0.6,11.6l0,0.3l-0.3,0.1 l-3,1.5l-0.8,0.4L21.8,31.2z M12.1,4.6L17,2c1.4-0.7,2.9-1,4.7-1c2.9,0,6.2,1,9.6,2.9l0.8,0.5l-0.8,0.4l-8.6,4.4l-0.2,0.1l-0.2-0.1 c-3.5-2.1-6.9-3.3-10-3.6l-1.7-0.1L12.1,4.6z M5.8,7.8c0,0,0.1-0.1,0.1-0.1C6,7.6,6.1,7.6,6.2,7.5C7.1,7.1,8,6.8,9.1,6.6l0.4-0.1 l0.2,0.3l11.3,21l0.1,0.1l0,0.1l-0.2,3.1l0,0.8l-0.7-0.4l-2.8-1.8l-0.1-0.1l-0.1-0.1L5.7,8.6c0,0,0-0.1-0.1-0.1L5.3,8.1L5.8,7.8z M4.8,22l-3.5-2.2L1,19.7l0-0.3l0.1-2.6c0-0.4,0.1-0.8,0.1-1.2l0.2-1.5l0.7,1.4l3.3,6.1L6.4,23L4.8,22z M8.2,24.2l-0.1-0.1L8.1,24 L2.3,13.3c0-0.1-0.1-0.1-0.1-0.2l-0.3-0.2L2,12.6c0.5-1.4,1.2-2.6,2.1-3.5l0.5-0.5l0.3,0.6L14.5,27l0.9,1.7l-1.6-1L8.2,24.2z M6.8,27.9l2.8-1.4l0.3-0.1l0.2,0.2l10.9,6.8l0,0c0.1,0.1,0.2,0.1,0.3,0.1c0.1,0,0.2,0,0.2-0.1l3.5-1.8l0.8-0.4l0,0.9l-0.4,7.5 l0,0.8l-0.7-0.4L6.8,28.8L6,28.3L6.8,27.9z M39.7,66l-0.2,0.1c-1.4,0.7-3.1,1.1-4.8,1.1c-3.1,0-6.6-1.1-10-3.3 C14.1,57.2,5.6,42.4,5.5,30l0-0.9l0.8,0.5l11.4,7.2l0,0l0.1,0l7.7,4.8c0.1,0.1,0.2,0.1,0.3,0.1c0.1,0,0.2,0,0.2-0.1 c0.2-0.1,0.3-0.2,0.3-0.4l1.2-21.3l0.1-0.9l0.7,0.5C38.6,27.1,46.6,42.6,46,54.2C45.6,59.8,43.4,64,39.7,66z M56.6,48.7 c-0.3,5.6-2.5,9.8-6.1,11.7l0,0l0,0l-5.1,2.6l-1.5,0.8l0.8-1.5c1.3-2.2,2-5,2.2-8.2c0.7-12.1-7.4-27.7-18.3-35.6L28,18.2l0.7-0.4 l8.7-4.4l0.3-0.1l0.2,0.2C48.9,20.8,57.3,36.6,56.6,48.7z"></path> </svg>
Kicking a paid LinkedIn campaign into gear
An industrial vacuum provider sends a resounding social media message with lightning-fast results
Kicking a paid LinkedIn campaign into gear
An industrial vacuum provider sends a resounding social media message with lightning-fast results
Ask
As a company that designs and builds industrial vacuums, DuroVac has many customers with regulatory concerns. With an upcoming deadline for important compliance measures, Motum B2B recognized a perfect opportunity for DuroVac to reach new leads who might be scrambling to comply.
Solution
Motum B2B created a two-pronged approach using LinkedIn sponsored posts and InMail. Messaging highlighted the looming deadline and its importance to the industry as a whole. We also positioned DuroVac as a provider of expert solutions.
While our sponsored posts delivered a high number of impressions, our sponsored InMail offered more in-depth knowledge. Both campaigns used Lead-Gen forms with a whitepaper explaining how facility managers, supervisors and directors can use DuroVac vacuums in their safety and compliance efforts.
The campaign generated a strong response from the target audience, generating 50 percent more leads than forecasted in just one month with an average cost per lead of less than $100.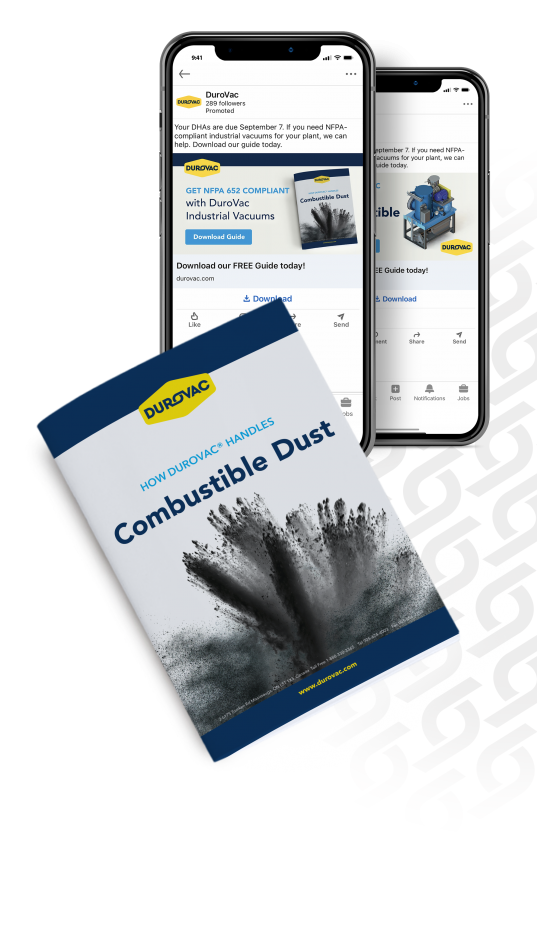 Looking to generate a buzz about your products or services? Talk to us.
Let's buzz.