<svg xmlns="http://www.w3.org/2000/svg" xmlns:xlink="http://www.w3.org/1999/xlink" version="1.1" id="vnhwscgvdg-Layer_1" x="0px" y="0px" viewBox="0 0 145.5 55.9" style="enable-background:new 0 0 145.5 55.9;" xml:space="preserve" fill="url(#vnhwscgvdg-design-gradient-1)"> <defs> <linearGradient id="vnhwscgvdg-design-gradient-1" x2="0%" y2="100%" gradientUnits="userSpaceOnUse"> <stop offset="10%"></stop> <stop offset="100%"></stop> </linearGradient> </defs> <path class="vnhwscgvdg-specialty-svg-01" d="M145.5,28.6c0-0.5-0.3-0.8-0.7-1l-30-8.2l5.2-2.1c0.4-0.2,0.6-0.5,0.6-0.9V3.9c0-0.5-0.4-1-1-1L10.6,0 c-0.2,0-0.4,0-0.5,0.1L0.5,5.6C0.2,5.8,0,6.1,0,6.5V18c0,0.4,0.2,0.7,0.5,0.9l64.2,36.9c0.2,0.1,0.3,0.1,0.5,0.1 c0.3,0,0.6-0.1,0.8-0.4l12.7-16.7l46.5,13.5c0.3,0.1,0.5,0,0.8-0.1L145,41.3c0.3-0.2,0.5-0.5,0.5-0.9L145.5,28.6z M118.5,15.7 l-7.3,3c-0.3,0.1-0.5,0.3-0.6,0.6l-17.2-4.5l25-9.9l0.1,0V15.7z M10.8,2l105.1,2.8l-24.2,9.6c-0.2,0.1-0.3,0.3-0.3,0.5 s0.2,0.4,0.4,0.5l19.3,5c0.1,0.1,0.2,0.1,0.3,0.1l31.2,8.5L125.4,39l-47-13.7c-0.2-0.1-0.4,0-0.5,0.2L65.1,41.3L2.7,6.7L10.8,2z M78.8,26.5l1.9,0.6v10.3l-1.9-0.6V26.5z M81.7,27.3l1.9,0.6v10.3l-1.9-0.6V27.3z M84.7,28.2l2,0.6v10.3l-2-0.6V28.2z M87.7,29.1 l1.9,0.6v10.3l-1.9-0.6V29.1z M90.6,29.9l1.9,0.6v10.3l-1.9-0.6V29.9z M93.5,30.8l1.9,0.6v10.3l-1.9-0.6V30.8z M96.5,31.7l1.9,0.6 v10.3l-1.9-0.6V31.7z M99.4,32.5l1.9,0.6v10.2l-1.9-0.6V32.5z M102.4,33.4l1.9,0.6v10.2l-1.9-0.6V33.4z M105.3,34.2l1.9,0.6V45 l-1.9-0.6V34.2z M108.3,35.1l1.9,0.6v10.2l-1.9-0.6V35.1z M111.2,36l1.9,0.6v10.2l-1.9-0.6V36z M114.2,36.8l1.9,0.6v10.2l-1.9-0.6 V36.8z M117.1,37.7l1.9,0.6v10.2l-1.9-0.6V37.7z M120,38.5l1.9,0.6v10.2l-1.9-0.6V38.5z M123,39.4l1.9,0.6v10.2l-1.9-0.6V39.4z M7.5,10.4v10.2l-2-1.1V9.3L7.5,10.4z M8.5,11l2,1.1v10.2l-2-1.1V11z M11.5,12.7l2,1.1v10.3l-2-1.1V12.7z M14.5,14.3l2,1.1v10.3 l-2-1.1V14.3z M17.5,16l2,1.1h0v10.4l-2-1.1V16z M20.5,17.7l2,1.1v10.5l-2-1.1V17.7z M23.5,19.3l2,1.1V31l-2-1.1V19.3z M26.5,21 l2,1.1v10.6l-2-1.1V21z M29.5,22.7l2,1.1v10.6l-2-1.1V22.7z M32.5,24.3l2,1.1v10.7l-2-1.1V24.3z M35.5,26l2,1.1v10.8l-2-1.1V26z M38.5,27.7l2,1.1v10.8l-2-1.1V27.7z M41.5,29.3l2,1.1v10.9l-2-1.1V29.3z M44.5,31l2,1.1V43l-2-1.1V31z M47.5,32.7l2,1.1v11l-2-1.1 V32.7z M50.5,34.3l2,1.1v11.1l-2-1.1V34.3z M53.5,36l2,1.1v11.1l-2-1.1V36z M56.5,37.7l2,1.1v11.2l-2-1.1V37.7z M59.5,39.3l2,1.1 v11.2l-2-1.1V39.3z M62.5,41l2.2,1.2v11.3l-2.2-1.3V41z M2,7.4l2.5,1.4v10.1L2,17.5V7.4z M65.7,52.6V42.1l12.1-14.9v9.6 c-0.1,0.1-0.2,0.1-0.3,0.3L65.7,52.6z M125.9,49.9v-10l17.6-10.1l0,10.1L125.9,49.9z"></path> </svg>
<svg xmlns="http://www.w3.org/2000/svg" xmlns:xlink="http://www.w3.org/1999/xlink" version="1.1" id="crfqddqaia-Layer_1" x="0px" y="0px" viewBox="0 0 145.5 55.9" style="enable-background:new 0 0 145.5 55.9;" xml:space="preserve" fill="url(#crfqddqaia-design-gradient-2)"> <defs> <linearGradient id="crfqddqaia-design-gradient-2" x2="0%" y2="100%" gradientUnits="userSpaceOnUse"> <stop offset="10%"></stop> <stop offset="100%"></stop> </linearGradient> </defs> <path class="crfqddqaia-specialty-svg-02" d="M145,5.6l-9.5-5.5C135.4,0,135.2,0,135,0L26,2.9c-0.5,0-1,0.5-1,1v12.4c0,0.4,0.2,0.8,0.6,0.9l5.2,2.1l-30,8.2 c-0.4,0.1-0.7,0.5-0.7,1l0,11.9c0,0.4,0.2,0.7,0.5,0.9l19.1,10.9c0.2,0.1,0.5,0.2,0.8,0.1l46.5-13.5l12.7,16.7 c0.2,0.3,0.5,0.4,0.8,0.4c0.2,0,0.3,0,0.5-0.1L145,18.9c0.3-0.2,0.5-0.5,0.5-0.9V6.5C145.5,6.1,145.4,5.8,145,5.6z M142.8,6.7 L80.5,41.3L67.7,25.5c-0.1-0.2-0.3-0.2-0.5-0.2L20.2,39L2.9,29.1l31.2-8.5c0.1,0,0.2-0.1,0.3-0.1l19.3-5c0.2-0.1,0.4-0.2,0.4-0.5 c0-0.2-0.1-0.4-0.3-0.5L29.6,4.8L134.8,2L142.8,6.7z M20.6,40l46.1-13.5v10.3L20.6,50.2V40z M27,15.7V4.9l0.1,0l25,9.9l-17.2,4.5 c-0.1-0.3-0.3-0.5-0.6-0.6L27,15.7z M2,29.7l17.6,10.1v10L2,39.9L2,29.7z M68,37.1c-0.1-0.1-0.2-0.2-0.3-0.2v-9.6l12.1,14.9v10.5 L68,37.1z M80.8,53.5V42.2l62.7-34.8v10.1L80.8,53.5z"></path> </svg>
<svg xmlns="http://www.w3.org/2000/svg" xmlns:xlink="http://www.w3.org/1999/xlink" version="1.1" id="crfqddqaia-Layer_1" x="0px" y="0px" viewBox="0 0 145.5 55.9" style="enable-background:new 0 0 145.5 55.9;" xml:space="preserve" fill="url(#crfqddqaia-design-gradient-2)"> <defs> <linearGradient id="crfqddqaia-design-gradient-2" x2="0%" y2="100%" gradientUnits="userSpaceOnUse"> <stop offset="10%"></stop> <stop offset="100%"></stop> </linearGradient> </defs> <path class="crfqddqaia-specialty-svg-02" d="M145,5.6l-9.5-5.5C135.4,0,135.2,0,135,0L26,2.9c-0.5,0-1,0.5-1,1v12.4c0,0.4,0.2,0.8,0.6,0.9l5.2,2.1l-30,8.2 c-0.4,0.1-0.7,0.5-0.7,1l0,11.9c0,0.4,0.2,0.7,0.5,0.9l19.1,10.9c0.2,0.1,0.5,0.2,0.8,0.1l46.5-13.5l12.7,16.7 c0.2,0.3,0.5,0.4,0.8,0.4c0.2,0,0.3,0,0.5-0.1L145,18.9c0.3-0.2,0.5-0.5,0.5-0.9V6.5C145.5,6.1,145.4,5.8,145,5.6z M142.8,6.7 L80.5,41.3L67.7,25.5c-0.1-0.2-0.3-0.2-0.5-0.2L20.2,39L2.9,29.1l31.2-8.5c0.1,0,0.2-0.1,0.3-0.1l19.3-5c0.2-0.1,0.4-0.2,0.4-0.5 c0-0.2-0.1-0.4-0.3-0.5L29.6,4.8L134.8,2L142.8,6.7z M20.6,40l46.1-13.5v10.3L20.6,50.2V40z M27,15.7V4.9l0.1,0l25,9.9l-17.2,4.5 c-0.1-0.3-0.3-0.5-0.6-0.6L27,15.7z M2,29.7l17.6,10.1v10L2,39.9L2,29.7z M68,37.1c-0.1-0.1-0.2-0.2-0.3-0.2v-9.6l12.1,14.9v10.5 L68,37.1z M80.8,53.5V42.2l62.7-34.8v10.1L80.8,53.5z"></path> </svg>
<svg xmlns="http://www.w3.org/2000/svg" xmlns:xlink="http://www.w3.org/1999/xlink" version="1.1" id="vnhwscgvdg-Layer_1" x="0px" y="0px" viewBox="0 0 145.5 55.9" style="enable-background:new 0 0 145.5 55.9;" xml:space="preserve" fill="url(#vnhwscgvdg-design-gradient-1)"> <defs> <linearGradient id="vnhwscgvdg-design-gradient-1" x2="0%" y2="100%" gradientUnits="userSpaceOnUse"> <stop offset="10%"></stop> <stop offset="100%"></stop> </linearGradient> </defs> <path class="vnhwscgvdg-specialty-svg-01" d="M145.5,28.6c0-0.5-0.3-0.8-0.7-1l-30-8.2l5.2-2.1c0.4-0.2,0.6-0.5,0.6-0.9V3.9c0-0.5-0.4-1-1-1L10.6,0 c-0.2,0-0.4,0-0.5,0.1L0.5,5.6C0.2,5.8,0,6.1,0,6.5V18c0,0.4,0.2,0.7,0.5,0.9l64.2,36.9c0.2,0.1,0.3,0.1,0.5,0.1 c0.3,0,0.6-0.1,0.8-0.4l12.7-16.7l46.5,13.5c0.3,0.1,0.5,0,0.8-0.1L145,41.3c0.3-0.2,0.5-0.5,0.5-0.9L145.5,28.6z M118.5,15.7 l-7.3,3c-0.3,0.1-0.5,0.3-0.6,0.6l-17.2-4.5l25-9.9l0.1,0V15.7z M10.8,2l105.1,2.8l-24.2,9.6c-0.2,0.1-0.3,0.3-0.3,0.5 s0.2,0.4,0.4,0.5l19.3,5c0.1,0.1,0.2,0.1,0.3,0.1l31.2,8.5L125.4,39l-47-13.7c-0.2-0.1-0.4,0-0.5,0.2L65.1,41.3L2.7,6.7L10.8,2z M78.8,26.5l1.9,0.6v10.3l-1.9-0.6V26.5z M81.7,27.3l1.9,0.6v10.3l-1.9-0.6V27.3z M84.7,28.2l2,0.6v10.3l-2-0.6V28.2z M87.7,29.1 l1.9,0.6v10.3l-1.9-0.6V29.1z M90.6,29.9l1.9,0.6v10.3l-1.9-0.6V29.9z M93.5,30.8l1.9,0.6v10.3l-1.9-0.6V30.8z M96.5,31.7l1.9,0.6 v10.3l-1.9-0.6V31.7z M99.4,32.5l1.9,0.6v10.2l-1.9-0.6V32.5z M102.4,33.4l1.9,0.6v10.2l-1.9-0.6V33.4z M105.3,34.2l1.9,0.6V45 l-1.9-0.6V34.2z M108.3,35.1l1.9,0.6v10.2l-1.9-0.6V35.1z M111.2,36l1.9,0.6v10.2l-1.9-0.6V36z M114.2,36.8l1.9,0.6v10.2l-1.9-0.6 V36.8z M117.1,37.7l1.9,0.6v10.2l-1.9-0.6V37.7z M120,38.5l1.9,0.6v10.2l-1.9-0.6V38.5z M123,39.4l1.9,0.6v10.2l-1.9-0.6V39.4z M7.5,10.4v10.2l-2-1.1V9.3L7.5,10.4z M8.5,11l2,1.1v10.2l-2-1.1V11z M11.5,12.7l2,1.1v10.3l-2-1.1V12.7z M14.5,14.3l2,1.1v10.3 l-2-1.1V14.3z M17.5,16l2,1.1h0v10.4l-2-1.1V16z M20.5,17.7l2,1.1v10.5l-2-1.1V17.7z M23.5,19.3l2,1.1V31l-2-1.1V19.3z M26.5,21 l2,1.1v10.6l-2-1.1V21z M29.5,22.7l2,1.1v10.6l-2-1.1V22.7z M32.5,24.3l2,1.1v10.7l-2-1.1V24.3z M35.5,26l2,1.1v10.8l-2-1.1V26z M38.5,27.7l2,1.1v10.8l-2-1.1V27.7z M41.5,29.3l2,1.1v10.9l-2-1.1V29.3z M44.5,31l2,1.1V43l-2-1.1V31z M47.5,32.7l2,1.1v11l-2-1.1 V32.7z M50.5,34.3l2,1.1v11.1l-2-1.1V34.3z M53.5,36l2,1.1v11.1l-2-1.1V36z M56.5,37.7l2,1.1v11.2l-2-1.1V37.7z M59.5,39.3l2,1.1 v11.2l-2-1.1V39.3z M62.5,41l2.2,1.2v11.3l-2.2-1.3V41z M2,7.4l2.5,1.4v10.1L2,17.5V7.4z M65.7,52.6V42.1l12.1-14.9v9.6 c-0.1,0.1-0.2,0.1-0.3,0.3L65.7,52.6z M125.9,49.9v-10l17.6-10.1l0,10.1L125.9,49.9z"></path> </svg>
<svg xmlns="http://www.w3.org/2000/svg" xmlns:xlink="http://www.w3.org/1999/xlink" version="1.1" id="vnhwscgvdg-Layer_1" x="0px" y="0px" viewBox="0 0 145.5 55.9" style="enable-background:new 0 0 145.5 55.9;" xml:space="preserve" fill="url(#vnhwscgvdg-design-gradient-1)"> <defs> <linearGradient id="vnhwscgvdg-design-gradient-1" x2="0%" y2="100%" gradientUnits="userSpaceOnUse"> <stop offset="10%"></stop> <stop offset="100%"></stop> </linearGradient> </defs> <path class="vnhwscgvdg-specialty-svg-01" d="M145.5,28.6c0-0.5-0.3-0.8-0.7-1l-30-8.2l5.2-2.1c0.4-0.2,0.6-0.5,0.6-0.9V3.9c0-0.5-0.4-1-1-1L10.6,0 c-0.2,0-0.4,0-0.5,0.1L0.5,5.6C0.2,5.8,0,6.1,0,6.5V18c0,0.4,0.2,0.7,0.5,0.9l64.2,36.9c0.2,0.1,0.3,0.1,0.5,0.1 c0.3,0,0.6-0.1,0.8-0.4l12.7-16.7l46.5,13.5c0.3,0.1,0.5,0,0.8-0.1L145,41.3c0.3-0.2,0.5-0.5,0.5-0.9L145.5,28.6z M118.5,15.7 l-7.3,3c-0.3,0.1-0.5,0.3-0.6,0.6l-17.2-4.5l25-9.9l0.1,0V15.7z M10.8,2l105.1,2.8l-24.2,9.6c-0.2,0.1-0.3,0.3-0.3,0.5 s0.2,0.4,0.4,0.5l19.3,5c0.1,0.1,0.2,0.1,0.3,0.1l31.2,8.5L125.4,39l-47-13.7c-0.2-0.1-0.4,0-0.5,0.2L65.1,41.3L2.7,6.7L10.8,2z M78.8,26.5l1.9,0.6v10.3l-1.9-0.6V26.5z M81.7,27.3l1.9,0.6v10.3l-1.9-0.6V27.3z M84.7,28.2l2,0.6v10.3l-2-0.6V28.2z M87.7,29.1 l1.9,0.6v10.3l-1.9-0.6V29.1z M90.6,29.9l1.9,0.6v10.3l-1.9-0.6V29.9z M93.5,30.8l1.9,0.6v10.3l-1.9-0.6V30.8z M96.5,31.7l1.9,0.6 v10.3l-1.9-0.6V31.7z M99.4,32.5l1.9,0.6v10.2l-1.9-0.6V32.5z M102.4,33.4l1.9,0.6v10.2l-1.9-0.6V33.4z M105.3,34.2l1.9,0.6V45 l-1.9-0.6V34.2z M108.3,35.1l1.9,0.6v10.2l-1.9-0.6V35.1z M111.2,36l1.9,0.6v10.2l-1.9-0.6V36z M114.2,36.8l1.9,0.6v10.2l-1.9-0.6 V36.8z M117.1,37.7l1.9,0.6v10.2l-1.9-0.6V37.7z M120,38.5l1.9,0.6v10.2l-1.9-0.6V38.5z M123,39.4l1.9,0.6v10.2l-1.9-0.6V39.4z M7.5,10.4v10.2l-2-1.1V9.3L7.5,10.4z M8.5,11l2,1.1v10.2l-2-1.1V11z M11.5,12.7l2,1.1v10.3l-2-1.1V12.7z M14.5,14.3l2,1.1v10.3 l-2-1.1V14.3z M17.5,16l2,1.1h0v10.4l-2-1.1V16z M20.5,17.7l2,1.1v10.5l-2-1.1V17.7z M23.5,19.3l2,1.1V31l-2-1.1V19.3z M26.5,21 l2,1.1v10.6l-2-1.1V21z M29.5,22.7l2,1.1v10.6l-2-1.1V22.7z M32.5,24.3l2,1.1v10.7l-2-1.1V24.3z M35.5,26l2,1.1v10.8l-2-1.1V26z M38.5,27.7l2,1.1v10.8l-2-1.1V27.7z M41.5,29.3l2,1.1v10.9l-2-1.1V29.3z M44.5,31l2,1.1V43l-2-1.1V31z M47.5,32.7l2,1.1v11l-2-1.1 V32.7z M50.5,34.3l2,1.1v11.1l-2-1.1V34.3z M53.5,36l2,1.1v11.1l-2-1.1V36z M56.5,37.7l2,1.1v11.2l-2-1.1V37.7z M59.5,39.3l2,1.1 v11.2l-2-1.1V39.3z M62.5,41l2.2,1.2v11.3l-2.2-1.3V41z M2,7.4l2.5,1.4v10.1L2,17.5V7.4z M65.7,52.6V42.1l12.1-14.9v9.6 c-0.1,0.1-0.2,0.1-0.3,0.3L65.7,52.6z M125.9,49.9v-10l17.6-10.1l0,10.1L125.9,49.9z"></path> </svg>
<svg xmlns="http://www.w3.org/2000/svg" xmlns:xlink="http://www.w3.org/1999/xlink" version="1.1" id="crfqddqaia-Layer_1" x="0px" y="0px" viewBox="0 0 145.5 55.9" style="enable-background:new 0 0 145.5 55.9;" xml:space="preserve" fill="url(#crfqddqaia-design-gradient-2)"> <defs> <linearGradient id="crfqddqaia-design-gradient-2" x2="0%" y2="100%" gradientUnits="userSpaceOnUse"> <stop offset="10%"></stop> <stop offset="100%"></stop> </linearGradient> </defs> <path class="crfqddqaia-specialty-svg-02" d="M145,5.6l-9.5-5.5C135.4,0,135.2,0,135,0L26,2.9c-0.5,0-1,0.5-1,1v12.4c0,0.4,0.2,0.8,0.6,0.9l5.2,2.1l-30,8.2 c-0.4,0.1-0.7,0.5-0.7,1l0,11.9c0,0.4,0.2,0.7,0.5,0.9l19.1,10.9c0.2,0.1,0.5,0.2,0.8,0.1l46.5-13.5l12.7,16.7 c0.2,0.3,0.5,0.4,0.8,0.4c0.2,0,0.3,0,0.5-0.1L145,18.9c0.3-0.2,0.5-0.5,0.5-0.9V6.5C145.5,6.1,145.4,5.8,145,5.6z M142.8,6.7 L80.5,41.3L67.7,25.5c-0.1-0.2-0.3-0.2-0.5-0.2L20.2,39L2.9,29.1l31.2-8.5c0.1,0,0.2-0.1,0.3-0.1l19.3-5c0.2-0.1,0.4-0.2,0.4-0.5 c0-0.2-0.1-0.4-0.3-0.5L29.6,4.8L134.8,2L142.8,6.7z M20.6,40l46.1-13.5v10.3L20.6,50.2V40z M27,15.7V4.9l0.1,0l25,9.9l-17.2,4.5 c-0.1-0.3-0.3-0.5-0.6-0.6L27,15.7z M2,29.7l17.6,10.1v10L2,39.9L2,29.7z M68,37.1c-0.1-0.1-0.2-0.2-0.3-0.2v-9.6l12.1,14.9v10.5 L68,37.1z M80.8,53.5V42.2l62.7-34.8v10.1L80.8,53.5z"></path> </svg>
Exploring a clickable cityscape
A maker of green building solutions illustrates their vision for a safe, sustainable city
Exploring a clickable cityscape
A maker of green building solutions illustrates their vision for a safe, sustainable city
Ask
With solutions for noise walls, retaining walls, and building applications, Durisol envisioned a fictional city supported by their safe and sustainable infrastructure. They asked for an interactive tool that would showcase their impressive projects in an easy-to-navigate online environment.
Solution
Our web development team had all hands on deck for the design, styling, and development of this responsive web application. First, a custom illustration depicted the framework of Durisol's imaginary city — one with a believable layout, eco-friendly structures, and plenty of greenspace.
Then we pinned it all over. Users can navigate the city with the click of a mouse, including clickable pins that expand to provide more information about a particular product. We optimized it for mobile and did responsive work to ensure it worked well on all platforms.
Durisol's product browsing experience is now an in-depth exploration. Users can easily see product benefits, photos, and technical details in a more immersive space.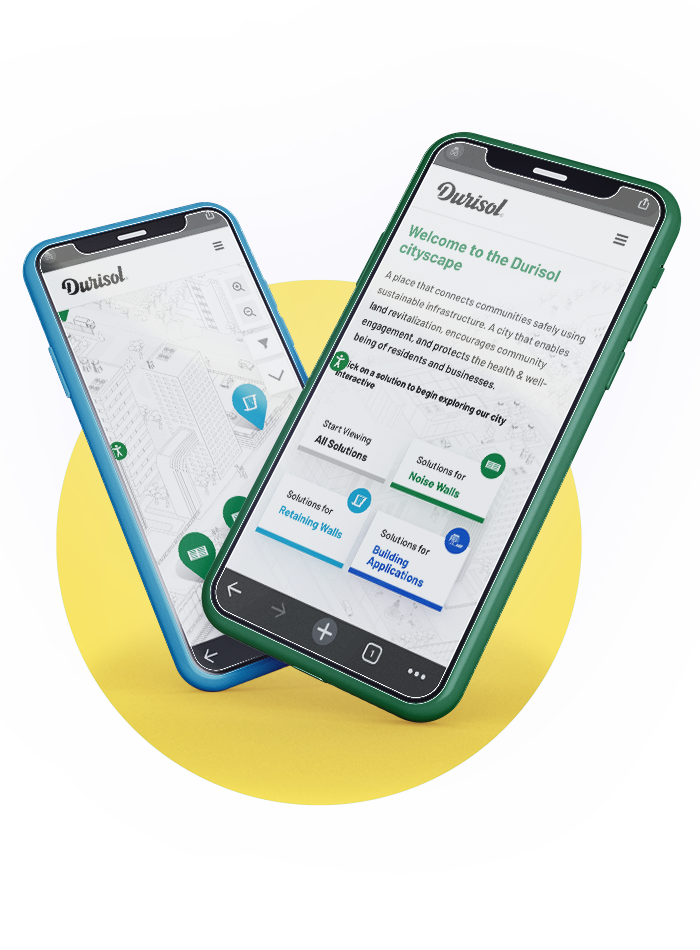 Want to create an immersive online experience that showcases your solutions?
Let's get visual