<svg xmlns="http://www.w3.org/2000/svg" xmlns:xlink="http://www.w3.org/1999/xlink" version="1.1" id="bangzfizlw-Layer_1" x="0px" y="0px" viewBox="0 0 145.5 55.9" style="enable-background:new 0 0 145.5 55.9;" xml:space="preserve" fill="url(#bangzfizlw-design-gradient-1)"> <defs> <linearGradient id="bangzfizlw-design-gradient-1" x2="0%" y2="100%" gradientUnits="userSpaceOnUse"> <stop offset="10%"></stop> <stop offset="100%"></stop> </linearGradient> </defs> <path class="bangzfizlw-specialty-svg-01" d="M145.5,28.6c0-0.5-0.3-0.8-0.7-1l-30-8.2l5.2-2.1c0.4-0.2,0.6-0.5,0.6-0.9V3.9c0-0.5-0.4-1-1-1L10.6,0 c-0.2,0-0.4,0-0.5,0.1L0.5,5.6C0.2,5.8,0,6.1,0,6.5V18c0,0.4,0.2,0.7,0.5,0.9l64.2,36.9c0.2,0.1,0.3,0.1,0.5,0.1 c0.3,0,0.6-0.1,0.8-0.4l12.7-16.7l46.5,13.5c0.3,0.1,0.5,0,0.8-0.1L145,41.3c0.3-0.2,0.5-0.5,0.5-0.9L145.5,28.6z M118.5,15.7 l-7.3,3c-0.3,0.1-0.5,0.3-0.6,0.6l-17.2-4.5l25-9.9l0.1,0V15.7z M10.8,2l105.1,2.8l-24.2,9.6c-0.2,0.1-0.3,0.3-0.3,0.5 s0.2,0.4,0.4,0.5l19.3,5c0.1,0.1,0.2,0.1,0.3,0.1l31.2,8.5L125.4,39l-47-13.7c-0.2-0.1-0.4,0-0.5,0.2L65.1,41.3L2.7,6.7L10.8,2z M78.8,26.5l1.9,0.6v10.3l-1.9-0.6V26.5z M81.7,27.3l1.9,0.6v10.3l-1.9-0.6V27.3z M84.7,28.2l2,0.6v10.3l-2-0.6V28.2z M87.7,29.1 l1.9,0.6v10.3l-1.9-0.6V29.1z M90.6,29.9l1.9,0.6v10.3l-1.9-0.6V29.9z M93.5,30.8l1.9,0.6v10.3l-1.9-0.6V30.8z M96.5,31.7l1.9,0.6 v10.3l-1.9-0.6V31.7z M99.4,32.5l1.9,0.6v10.2l-1.9-0.6V32.5z M102.4,33.4l1.9,0.6v10.2l-1.9-0.6V33.4z M105.3,34.2l1.9,0.6V45 l-1.9-0.6V34.2z M108.3,35.1l1.9,0.6v10.2l-1.9-0.6V35.1z M111.2,36l1.9,0.6v10.2l-1.9-0.6V36z M114.2,36.8l1.9,0.6v10.2l-1.9-0.6 V36.8z M117.1,37.7l1.9,0.6v10.2l-1.9-0.6V37.7z M120,38.5l1.9,0.6v10.2l-1.9-0.6V38.5z M123,39.4l1.9,0.6v10.2l-1.9-0.6V39.4z M7.5,10.4v10.2l-2-1.1V9.3L7.5,10.4z M8.5,11l2,1.1v10.2l-2-1.1V11z M11.5,12.7l2,1.1v10.3l-2-1.1V12.7z M14.5,14.3l2,1.1v10.3 l-2-1.1V14.3z M17.5,16l2,1.1h0v10.4l-2-1.1V16z M20.5,17.7l2,1.1v10.5l-2-1.1V17.7z M23.5,19.3l2,1.1V31l-2-1.1V19.3z M26.5,21 l2,1.1v10.6l-2-1.1V21z M29.5,22.7l2,1.1v10.6l-2-1.1V22.7z M32.5,24.3l2,1.1v10.7l-2-1.1V24.3z M35.5,26l2,1.1v10.8l-2-1.1V26z M38.5,27.7l2,1.1v10.8l-2-1.1V27.7z M41.5,29.3l2,1.1v10.9l-2-1.1V29.3z M44.5,31l2,1.1V43l-2-1.1V31z M47.5,32.7l2,1.1v11l-2-1.1 V32.7z M50.5,34.3l2,1.1v11.1l-2-1.1V34.3z M53.5,36l2,1.1v11.1l-2-1.1V36z M56.5,37.7l2,1.1v11.2l-2-1.1V37.7z M59.5,39.3l2,1.1 v11.2l-2-1.1V39.3z M62.5,41l2.2,1.2v11.3l-2.2-1.3V41z M2,7.4l2.5,1.4v10.1L2,17.5V7.4z M65.7,52.6V42.1l12.1-14.9v9.6 c-0.1,0.1-0.2,0.1-0.3,0.3L65.7,52.6z M125.9,49.9v-10l17.6-10.1l0,10.1L125.9,49.9z"></path> </svg>
<svg xmlns="http://www.w3.org/2000/svg" xmlns:xlink="http://www.w3.org/1999/xlink" version="1.1" id="fbgzangzda-Layer_1" x="0px" y="0px" viewBox="0 0 145.5 55.9" style="enable-background:new 0 0 145.5 55.9;" xml:space="preserve" fill="url(#fbgzangzda-design-gradient-2)"> <defs> <linearGradient id="fbgzangzda-design-gradient-2" x2="0%" y2="100%" gradientUnits="userSpaceOnUse"> <stop offset="10%"></stop> <stop offset="100%"></stop> </linearGradient> </defs> <path class="fbgzangzda-specialty-svg-02" d="M145,5.6l-9.5-5.5C135.4,0,135.2,0,135,0L26,2.9c-0.5,0-1,0.5-1,1v12.4c0,0.4,0.2,0.8,0.6,0.9l5.2,2.1l-30,8.2 c-0.4,0.1-0.7,0.5-0.7,1l0,11.9c0,0.4,0.2,0.7,0.5,0.9l19.1,10.9c0.2,0.1,0.5,0.2,0.8,0.1l46.5-13.5l12.7,16.7 c0.2,0.3,0.5,0.4,0.8,0.4c0.2,0,0.3,0,0.5-0.1L145,18.9c0.3-0.2,0.5-0.5,0.5-0.9V6.5C145.5,6.1,145.4,5.8,145,5.6z M142.8,6.7 L80.5,41.3L67.7,25.5c-0.1-0.2-0.3-0.2-0.5-0.2L20.2,39L2.9,29.1l31.2-8.5c0.1,0,0.2-0.1,0.3-0.1l19.3-5c0.2-0.1,0.4-0.2,0.4-0.5 c0-0.2-0.1-0.4-0.3-0.5L29.6,4.8L134.8,2L142.8,6.7z M20.6,40l46.1-13.5v10.3L20.6,50.2V40z M27,15.7V4.9l0.1,0l25,9.9l-17.2,4.5 c-0.1-0.3-0.3-0.5-0.6-0.6L27,15.7z M2,29.7l17.6,10.1v10L2,39.9L2,29.7z M68,37.1c-0.1-0.1-0.2-0.2-0.3-0.2v-9.6l12.1,14.9v10.5 L68,37.1z M80.8,53.5V42.2l62.7-34.8v10.1L80.8,53.5z"></path> </svg>
<svg xmlns="http://www.w3.org/2000/svg" xmlns:xlink="http://www.w3.org/1999/xlink" version="1.1" id="fbgzangzda-Layer_1" x="0px" y="0px" viewBox="0 0 145.5 55.9" style="enable-background:new 0 0 145.5 55.9;" xml:space="preserve" fill="url(#fbgzangzda-design-gradient-2)"> <defs> <linearGradient id="fbgzangzda-design-gradient-2" x2="0%" y2="100%" gradientUnits="userSpaceOnUse"> <stop offset="10%"></stop> <stop offset="100%"></stop> </linearGradient> </defs> <path class="fbgzangzda-specialty-svg-02" d="M145,5.6l-9.5-5.5C135.4,0,135.2,0,135,0L26,2.9c-0.5,0-1,0.5-1,1v12.4c0,0.4,0.2,0.8,0.6,0.9l5.2,2.1l-30,8.2 c-0.4,0.1-0.7,0.5-0.7,1l0,11.9c0,0.4,0.2,0.7,0.5,0.9l19.1,10.9c0.2,0.1,0.5,0.2,0.8,0.1l46.5-13.5l12.7,16.7 c0.2,0.3,0.5,0.4,0.8,0.4c0.2,0,0.3,0,0.5-0.1L145,18.9c0.3-0.2,0.5-0.5,0.5-0.9V6.5C145.5,6.1,145.4,5.8,145,5.6z M142.8,6.7 L80.5,41.3L67.7,25.5c-0.1-0.2-0.3-0.2-0.5-0.2L20.2,39L2.9,29.1l31.2-8.5c0.1,0,0.2-0.1,0.3-0.1l19.3-5c0.2-0.1,0.4-0.2,0.4-0.5 c0-0.2-0.1-0.4-0.3-0.5L29.6,4.8L134.8,2L142.8,6.7z M20.6,40l46.1-13.5v10.3L20.6,50.2V40z M27,15.7V4.9l0.1,0l25,9.9l-17.2,4.5 c-0.1-0.3-0.3-0.5-0.6-0.6L27,15.7z M2,29.7l17.6,10.1v10L2,39.9L2,29.7z M68,37.1c-0.1-0.1-0.2-0.2-0.3-0.2v-9.6l12.1,14.9v10.5 L68,37.1z M80.8,53.5V42.2l62.7-34.8v10.1L80.8,53.5z"></path> </svg>
<svg xmlns="http://www.w3.org/2000/svg" xmlns:xlink="http://www.w3.org/1999/xlink" version="1.1" id="bangzfizlw-Layer_1" x="0px" y="0px" viewBox="0 0 145.5 55.9" style="enable-background:new 0 0 145.5 55.9;" xml:space="preserve" fill="url(#bangzfizlw-design-gradient-1)"> <defs> <linearGradient id="bangzfizlw-design-gradient-1" x2="0%" y2="100%" gradientUnits="userSpaceOnUse"> <stop offset="10%"></stop> <stop offset="100%"></stop> </linearGradient> </defs> <path class="bangzfizlw-specialty-svg-01" d="M145.5,28.6c0-0.5-0.3-0.8-0.7-1l-30-8.2l5.2-2.1c0.4-0.2,0.6-0.5,0.6-0.9V3.9c0-0.5-0.4-1-1-1L10.6,0 c-0.2,0-0.4,0-0.5,0.1L0.5,5.6C0.2,5.8,0,6.1,0,6.5V18c0,0.4,0.2,0.7,0.5,0.9l64.2,36.9c0.2,0.1,0.3,0.1,0.5,0.1 c0.3,0,0.6-0.1,0.8-0.4l12.7-16.7l46.5,13.5c0.3,0.1,0.5,0,0.8-0.1L145,41.3c0.3-0.2,0.5-0.5,0.5-0.9L145.5,28.6z M118.5,15.7 l-7.3,3c-0.3,0.1-0.5,0.3-0.6,0.6l-17.2-4.5l25-9.9l0.1,0V15.7z M10.8,2l105.1,2.8l-24.2,9.6c-0.2,0.1-0.3,0.3-0.3,0.5 s0.2,0.4,0.4,0.5l19.3,5c0.1,0.1,0.2,0.1,0.3,0.1l31.2,8.5L125.4,39l-47-13.7c-0.2-0.1-0.4,0-0.5,0.2L65.1,41.3L2.7,6.7L10.8,2z M78.8,26.5l1.9,0.6v10.3l-1.9-0.6V26.5z M81.7,27.3l1.9,0.6v10.3l-1.9-0.6V27.3z M84.7,28.2l2,0.6v10.3l-2-0.6V28.2z M87.7,29.1 l1.9,0.6v10.3l-1.9-0.6V29.1z M90.6,29.9l1.9,0.6v10.3l-1.9-0.6V29.9z M93.5,30.8l1.9,0.6v10.3l-1.9-0.6V30.8z M96.5,31.7l1.9,0.6 v10.3l-1.9-0.6V31.7z M99.4,32.5l1.9,0.6v10.2l-1.9-0.6V32.5z M102.4,33.4l1.9,0.6v10.2l-1.9-0.6V33.4z M105.3,34.2l1.9,0.6V45 l-1.9-0.6V34.2z M108.3,35.1l1.9,0.6v10.2l-1.9-0.6V35.1z M111.2,36l1.9,0.6v10.2l-1.9-0.6V36z M114.2,36.8l1.9,0.6v10.2l-1.9-0.6 V36.8z M117.1,37.7l1.9,0.6v10.2l-1.9-0.6V37.7z M120,38.5l1.9,0.6v10.2l-1.9-0.6V38.5z M123,39.4l1.9,0.6v10.2l-1.9-0.6V39.4z M7.5,10.4v10.2l-2-1.1V9.3L7.5,10.4z M8.5,11l2,1.1v10.2l-2-1.1V11z M11.5,12.7l2,1.1v10.3l-2-1.1V12.7z M14.5,14.3l2,1.1v10.3 l-2-1.1V14.3z M17.5,16l2,1.1h0v10.4l-2-1.1V16z M20.5,17.7l2,1.1v10.5l-2-1.1V17.7z M23.5,19.3l2,1.1V31l-2-1.1V19.3z M26.5,21 l2,1.1v10.6l-2-1.1V21z M29.5,22.7l2,1.1v10.6l-2-1.1V22.7z M32.5,24.3l2,1.1v10.7l-2-1.1V24.3z M35.5,26l2,1.1v10.8l-2-1.1V26z M38.5,27.7l2,1.1v10.8l-2-1.1V27.7z M41.5,29.3l2,1.1v10.9l-2-1.1V29.3z M44.5,31l2,1.1V43l-2-1.1V31z M47.5,32.7l2,1.1v11l-2-1.1 V32.7z M50.5,34.3l2,1.1v11.1l-2-1.1V34.3z M53.5,36l2,1.1v11.1l-2-1.1V36z M56.5,37.7l2,1.1v11.2l-2-1.1V37.7z M59.5,39.3l2,1.1 v11.2l-2-1.1V39.3z M62.5,41l2.2,1.2v11.3l-2.2-1.3V41z M2,7.4l2.5,1.4v10.1L2,17.5V7.4z M65.7,52.6V42.1l12.1-14.9v9.6 c-0.1,0.1-0.2,0.1-0.3,0.3L65.7,52.6z M125.9,49.9v-10l17.6-10.1l0,10.1L125.9,49.9z"></path> </svg>
<svg xmlns="http://www.w3.org/2000/svg" xmlns:xlink="http://www.w3.org/1999/xlink" version="1.1" id="bangzfizlw-Layer_1" x="0px" y="0px" viewBox="0 0 145.5 55.9" style="enable-background:new 0 0 145.5 55.9;" xml:space="preserve" fill="url(#bangzfizlw-design-gradient-1)"> <defs> <linearGradient id="bangzfizlw-design-gradient-1" x2="0%" y2="100%" gradientUnits="userSpaceOnUse"> <stop offset="10%"></stop> <stop offset="100%"></stop> </linearGradient> </defs> <path class="bangzfizlw-specialty-svg-01" d="M145.5,28.6c0-0.5-0.3-0.8-0.7-1l-30-8.2l5.2-2.1c0.4-0.2,0.6-0.5,0.6-0.9V3.9c0-0.5-0.4-1-1-1L10.6,0 c-0.2,0-0.4,0-0.5,0.1L0.5,5.6C0.2,5.8,0,6.1,0,6.5V18c0,0.4,0.2,0.7,0.5,0.9l64.2,36.9c0.2,0.1,0.3,0.1,0.5,0.1 c0.3,0,0.6-0.1,0.8-0.4l12.7-16.7l46.5,13.5c0.3,0.1,0.5,0,0.8-0.1L145,41.3c0.3-0.2,0.5-0.5,0.5-0.9L145.5,28.6z M118.5,15.7 l-7.3,3c-0.3,0.1-0.5,0.3-0.6,0.6l-17.2-4.5l25-9.9l0.1,0V15.7z M10.8,2l105.1,2.8l-24.2,9.6c-0.2,0.1-0.3,0.3-0.3,0.5 s0.2,0.4,0.4,0.5l19.3,5c0.1,0.1,0.2,0.1,0.3,0.1l31.2,8.5L125.4,39l-47-13.7c-0.2-0.1-0.4,0-0.5,0.2L65.1,41.3L2.7,6.7L10.8,2z M78.8,26.5l1.9,0.6v10.3l-1.9-0.6V26.5z M81.7,27.3l1.9,0.6v10.3l-1.9-0.6V27.3z M84.7,28.2l2,0.6v10.3l-2-0.6V28.2z M87.7,29.1 l1.9,0.6v10.3l-1.9-0.6V29.1z M90.6,29.9l1.9,0.6v10.3l-1.9-0.6V29.9z M93.5,30.8l1.9,0.6v10.3l-1.9-0.6V30.8z M96.5,31.7l1.9,0.6 v10.3l-1.9-0.6V31.7z M99.4,32.5l1.9,0.6v10.2l-1.9-0.6V32.5z M102.4,33.4l1.9,0.6v10.2l-1.9-0.6V33.4z M105.3,34.2l1.9,0.6V45 l-1.9-0.6V34.2z M108.3,35.1l1.9,0.6v10.2l-1.9-0.6V35.1z M111.2,36l1.9,0.6v10.2l-1.9-0.6V36z M114.2,36.8l1.9,0.6v10.2l-1.9-0.6 V36.8z M117.1,37.7l1.9,0.6v10.2l-1.9-0.6V37.7z M120,38.5l1.9,0.6v10.2l-1.9-0.6V38.5z M123,39.4l1.9,0.6v10.2l-1.9-0.6V39.4z M7.5,10.4v10.2l-2-1.1V9.3L7.5,10.4z M8.5,11l2,1.1v10.2l-2-1.1V11z M11.5,12.7l2,1.1v10.3l-2-1.1V12.7z M14.5,14.3l2,1.1v10.3 l-2-1.1V14.3z M17.5,16l2,1.1h0v10.4l-2-1.1V16z M20.5,17.7l2,1.1v10.5l-2-1.1V17.7z M23.5,19.3l2,1.1V31l-2-1.1V19.3z M26.5,21 l2,1.1v10.6l-2-1.1V21z M29.5,22.7l2,1.1v10.6l-2-1.1V22.7z M32.5,24.3l2,1.1v10.7l-2-1.1V24.3z M35.5,26l2,1.1v10.8l-2-1.1V26z M38.5,27.7l2,1.1v10.8l-2-1.1V27.7z M41.5,29.3l2,1.1v10.9l-2-1.1V29.3z M44.5,31l2,1.1V43l-2-1.1V31z M47.5,32.7l2,1.1v11l-2-1.1 V32.7z M50.5,34.3l2,1.1v11.1l-2-1.1V34.3z M53.5,36l2,1.1v11.1l-2-1.1V36z M56.5,37.7l2,1.1v11.2l-2-1.1V37.7z M59.5,39.3l2,1.1 v11.2l-2-1.1V39.3z M62.5,41l2.2,1.2v11.3l-2.2-1.3V41z M2,7.4l2.5,1.4v10.1L2,17.5V7.4z M65.7,52.6V42.1l12.1-14.9v9.6 c-0.1,0.1-0.2,0.1-0.3,0.3L65.7,52.6z M125.9,49.9v-10l17.6-10.1l0,10.1L125.9,49.9z"></path> </svg>
<svg xmlns="http://www.w3.org/2000/svg" xmlns:xlink="http://www.w3.org/1999/xlink" version="1.1" id="fbgzangzda-Layer_1" x="0px" y="0px" viewBox="0 0 145.5 55.9" style="enable-background:new 0 0 145.5 55.9;" xml:space="preserve" fill="url(#fbgzangzda-design-gradient-2)"> <defs> <linearGradient id="fbgzangzda-design-gradient-2" x2="0%" y2="100%" gradientUnits="userSpaceOnUse"> <stop offset="10%"></stop> <stop offset="100%"></stop> </linearGradient> </defs> <path class="fbgzangzda-specialty-svg-02" d="M145,5.6l-9.5-5.5C135.4,0,135.2,0,135,0L26,2.9c-0.5,0-1,0.5-1,1v12.4c0,0.4,0.2,0.8,0.6,0.9l5.2,2.1l-30,8.2 c-0.4,0.1-0.7,0.5-0.7,1l0,11.9c0,0.4,0.2,0.7,0.5,0.9l19.1,10.9c0.2,0.1,0.5,0.2,0.8,0.1l46.5-13.5l12.7,16.7 c0.2,0.3,0.5,0.4,0.8,0.4c0.2,0,0.3,0,0.5-0.1L145,18.9c0.3-0.2,0.5-0.5,0.5-0.9V6.5C145.5,6.1,145.4,5.8,145,5.6z M142.8,6.7 L80.5,41.3L67.7,25.5c-0.1-0.2-0.3-0.2-0.5-0.2L20.2,39L2.9,29.1l31.2-8.5c0.1,0,0.2-0.1,0.3-0.1l19.3-5c0.2-0.1,0.4-0.2,0.4-0.5 c0-0.2-0.1-0.4-0.3-0.5L29.6,4.8L134.8,2L142.8,6.7z M20.6,40l46.1-13.5v10.3L20.6,50.2V40z M27,15.7V4.9l0.1,0l25,9.9l-17.2,4.5 c-0.1-0.3-0.3-0.5-0.6-0.6L27,15.7z M2,29.7l17.6,10.1v10L2,39.9L2,29.7z M68,37.1c-0.1-0.1-0.2-0.2-0.3-0.2v-9.6l12.1,14.9v10.5 L68,37.1z M80.8,53.5V42.2l62.7-34.8v10.1L80.8,53.5z"></path> </svg>
An accessibility retrofit for a king
A leading supplier of personal care ingredients gets a big boost in its site's accessibility scores
An accessibility retrofit for a king
A leading supplier of personal care ingredients gets a big boost in its site's accessibility scores
Ask
The client, a supplier of ingredients for personal care products, needed to perform an accessibility audit on their existing site and make any necessary changes. They asked Motum B2B to ensure their updated website complied with the rules under AA Web Content Accessibility Guidelines (WCAG) 2.1.
Solution
Tested with accessibility tools Lighthouse and aCe, the upgrades were done in HTML, CSS and JavaScript. Our crackshot web team made several notable upgrades to make the website accessible to a wider audience.
The main navigation menu is now usable by keyboard, as are the product filter accordions. We updated a series of carousel slides on the homepage to let users navigate it by keyboard, pause slides, and interpret newly-labelled arrows and pagination with screen readers. We also added heading hierarchy, link descriptions, a new colour contrast ratio and a "skip to main content" option in the navigation bar, and there's more in the pipeline.
Since the retrofit, the website's Lighthouse accessibility scores jumped from 65-66 to 98, reflecting the hard work done to target WCAG AA guidelines. The changes also improved the site's SEO ranking.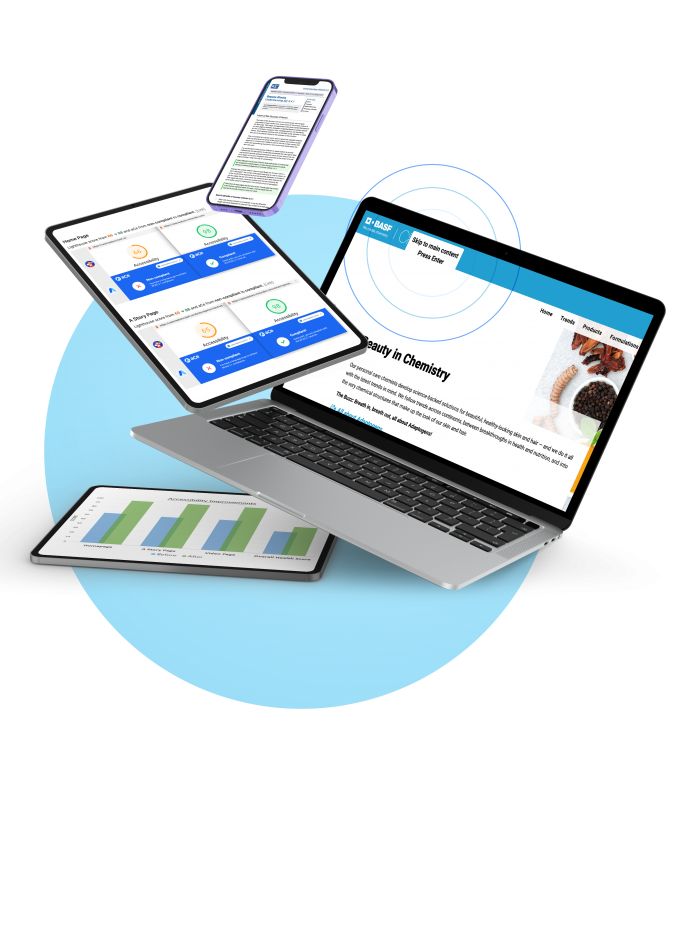 Does your website need an accessibility boost? We have the tools to help.
Boost me!