<svg xmlns="http://www.w3.org/2000/svg" xmlns:xlink="http://www.w3.org/1999/xlink" version="1.1" id="tbojpdlxhb-Layer_1" x="0px" y="0px" viewBox="0 0 139.2 91.2" style="enable-background:new 0 0 139.2 91.2;" xml:space="preserve" fill="url(#tbojpdlxhb-design-gradient-1)"> <defs> <linearGradient id="tbojpdlxhb-design-gradient-1" x2="0%" y2="100%" gradientUnits="userSpaceOnUse"> <stop offset="10%"></stop> <stop offset="100%"></stop> </linearGradient> </defs> <path class="tbojpdlxhb-specialty-svg-01" d="M139.1,89.7l-51-89.2c-0.2-0.4-0.6-0.6-1-0.5L57.4,4.9C57,5,56.6,5.4,56.6,5.8l-1.4,14.1l-14-11.6 C41,8.1,40.7,8,40.4,8.1L0.8,14.9c-0.4,0.1-0.7,0.4-0.8,0.8s0.1,0.8,0.5,1l52.1,28.2l-0.3,3.2c0,0.4,0.2,0.8,0.6,1l85,42 c0.1,0.1,0.3,0.1,0.4,0.1c0.3,0,0.5-0.1,0.7-0.3C139.3,90.6,139.3,90.1,139.1,89.7z M107.1,73.7L54.3,47.6l0.3-2.7L107.1,73.7z M134.3,85.4L59,6.7l27.7-4.6L134.3,85.4z M57,21.9l1.5-14.4l1.7,1.8l-1.5,14.4l-1.8-1.5C56.9,22.1,56.9,22,57,21.9z M61,10.2 l2.2,2.3l-1.5,13.7l-2.1-1.8L61,10.2z M64.1,13.5l2.2,2.3l-1.4,13.1L62.6,27L64.1,13.5z M67.2,16.7l2,2.1l0,0l-1.4,12.5l-2-1.6 L67.2,16.7z M70.1,19.7l1.7,1.8l-1.2,12.1l-1.8-1.5L70.1,19.7z M72.7,22.5l1.7,1.8l-1.2,11.5l-1.7-1.4L72.7,22.5z M75.3,25.2 l2.2,2.3l-1.1,10.9l-2.2-1.8L75.3,25.2z M78.4,28.4l2.1,2.1l-1.1,10.3l-2.1-1.7L78.4,28.4z M81.4,31.5l1.8,1.9l-1,9.8l-1.8-1.5 L81.4,31.5z M84.1,34.3l1.8,1.9l-0.9,9.3l-1.8-1.5L84.1,34.3z M86.8,37.1l1.9,2l-0.9,8.7l-1.9-1.6L86.8,37.1z M89.6,40l2.2,2.3 L91,50.5l-2.3-1.9L89.6,40z M92.7,43.3l2,2.1l-0.8,7.5l-2-1.7L92.7,43.3z M95.6,46.3l2.3,2.4l0,0l-0.7,6.8l-2.4-2L95.6,46.3z M98.8,49.7l1.9,2l-0.6,6.3l-1.9-1.6L98.8,49.7z M101.6,52.6l1.9,2l-0.6,5.7l-2-1.6L101.6,52.6z M104.4,55.6l2.4,2.5l-0.5,5l-2.4-2 L104.4,55.6z M107.7,59l2.2,2.3l-0.5,4.4l-2.3-1.9L107.7,59z M110.9,62.3l1.9,2l-0.4,3.9l-1.9-1.6L110.9,62.3z M113.7,65.3l2.1,2.2 l-0.3,3.3l-2.1-1.7L113.7,65.3z M116.6,68.4l2.1,2.2l-0.3,2.7l-2.1-1.7L116.6,68.4z M119.6,71.5L122,74l-0.2,2l-2.5-2.1L119.6,71.5z M122.9,74.9l1.9,2l-0.1,1.4l-1.9-1.6L122.9,74.9z M125.7,77.9l2.6,2.7l-0.1,0.7l-2.7-2.2L125.7,77.9z M129.2,81.5l2.7,2.8l-2.8-2.3 L129.2,81.5z M4,16.3l36.3-6.2l15,12.5c0.2,0.2,0.5,0.2,0.7,0.2L133,86.5l-4.8-2.4L54.3,43.6c0,0-0.1-0.1-0.1-0.1L4,16.3z"></path> </svg>
<svg xmlns="http://www.w3.org/2000/svg" xmlns:xlink="http://www.w3.org/1999/xlink" version="1.1" id="gtcidjkwcb-Layer_1" x="0px" y="0px" viewBox="0 0 55.7 33.1" style="enable-background:new 0 0 55.7 33.1;" xml:space="preserve" fill="url(#gtcidjkwcb-design-gradient-1)"> <defs> <linearGradient id="gtcidjkwcb-design-gradient-1" x2="0%" y2="100%" gradientUnits="userSpaceOnUse"> <stop offset="10%"></stop> <stop offset="100%"></stop> </linearGradient> </defs> <path class="gtcidjkwcb-specialty-svg-02" d="M0.1,0.5C0.1,0.5,0.1,0.5,0.1,0.5L22.4,33c0.1,0.1,0.1,0.1,0.3,0.1c0,0,0,0,0,0c0.1,0,0.2,0,0.2-0.1l11.5-12.5 l7.9,4.5c0.1,0,0.1,0,0.2,0c0,0,0.1,0,0.1,0c0.1,0,0.2-0.1,0.2-0.2l1.7-10.3l11-3.3c0.1,0,0.2-0.2,0.2-0.3c0-0.2-0.1-0.3-0.3-0.3 L0.4,0c0,0,0,0,0,0c0,0-0.1,0-0.1,0c0,0-0.1,0-0.1,0.1c0,0,0,0,0,0c0,0,0,0,0,0c0,0,0,0-0.1,0.1c0,0,0,0.1,0,0.1c0,0,0,0,0,0 c0,0,0,0,0,0c0,0,0,0.1,0,0.1C0,0.4,0,0.5,0.1,0.5z M42.1,24.2l-0.9-1l1.5-9.2l1,0.3L42.1,24.2z M39.6,13l-1.2,7l-1-1.1l1.1-6.3 L39.6,13z M41.1,13.5l-1.3,8l-1-1.1l1.2-7.3L41.1,13.5z M42.5,13.9l-1.5,9l-1-1.1l1.4-8.2L42.5,13.9z M41.3,23.7L34.7,20l1.7-1.8 l0.8,0.9c0,0,0,0.1,0.1,0.1L41.3,23.7z M36.1,17.6l0.9-5.4l1.3,0.4l-1,6.1l-0.7-0.8c0,0,0,0,0,0c0,0,0,0,0,0c0,0,0,0,0,0 c0,0,0,0,0,0L36.1,17.6z M34.7,16.9l0.9-5.2l1,0.3l-0.9,5.4L34.7,16.9z M33.4,16.3l0.8-5l1,0.3l-0.9,5.2L33.4,16.3z M32,15.6 l0.8-4.8l1.1,0.4l-0.8,4.9L32,15.6z M30.6,14.9l0.8-4.5l1.1,0.3l-0.8,4.7L30.6,14.9z M29.2,14.3L30,9.9l1.1,0.3l-0.8,4.5L29.2,14.3z M27.9,13.6l0.7-4.1l1,0.3l-0.7,4.3L27.9,13.6z M26.6,13l0.7-3.9l1,0.3l-0.7,4.1L26.6,13z M25.3,12.3l0.6-3.7l1,0.3l-0.6,3.8 L25.3,12.3z M24,11.7l0.6-3.5l1,0.3L25,12.2L24,11.7z M22.5,11l0.5-3.2l1.1,0.4l-0.6,3.4L22.5,11z M21.2,10.3l0.5-3l1.1,0.3 l-0.5,3.2L21.2,10.3z M19.8,9.6l0.5-2.8l1.1,0.3l-0.5,3L19.8,9.6z M18.5,9l0.4-2.6l1,0.3l-0.5,2.7L18.5,9z M17.1,8.4L17.5,6l1,0.3 l-0.4,2.5L17.1,8.4z M15.8,7.7l0.4-2.2l1,0.3l-0.4,2.3L15.8,7.7z M14.5,7.1l0.3-1.9l1,0.3l-0.4,2.1L14.5,7.1z M13.1,6.4l0.3-1.7 L14.5,5l-0.3,1.9L13.1,6.4z M11.7,5.7l0.3-1.5l1.1,0.4l-0.3,1.7L11.7,5.7z M10.5,5.1l0.2-1.3l0.9,0.3l-0.2,1.4L10.5,5.1z M9,4.4 l0.2-1.1l1.2,0.4l-0.2,1.2L9,4.4z M7.7,3.7l0.1-0.8l1,0.3l-0.2,1L7.7,3.7z M6.3,3.1l0.1-0.6l1,0.3L7.4,3.6L6.3,3.1z M5,2.4L5.1,2 l1,0.3L6,2.9L5,2.4z M3.6,1.7l0-0.2l1.1,0.4L4.7,2.3L3.6,1.7z M2.4,1.2l0.9,0.3l0,0.1L2.4,1.2z M53.9,11l-9.9,3c0,0,0,0,0,0 C44,14,44,14,43.9,14L4.4,1.5L53.9,11z M1.1,0.9L36.1,18l-1.7,1.8c-0.1,0-0.2,0-0.3,0.1l0,0L22.7,32.3L1.1,0.9z"></path> </svg>
<svg xmlns="http://www.w3.org/2000/svg" xmlns:xlink="http://www.w3.org/1999/xlink" version="1.1" id="gtcidjkwcb-Layer_1" x="0px" y="0px" viewBox="0 0 55.7 33.1" style="enable-background:new 0 0 55.7 33.1;" xml:space="preserve" fill="url(#gtcidjkwcb-design-gradient-1)"> <defs> <linearGradient id="gtcidjkwcb-design-gradient-1" x2="0%" y2="100%" gradientUnits="userSpaceOnUse"> <stop offset="10%"></stop> <stop offset="100%"></stop> </linearGradient> </defs> <path class="gtcidjkwcb-specialty-svg-02" d="M0.1,0.5C0.1,0.5,0.1,0.5,0.1,0.5L22.4,33c0.1,0.1,0.1,0.1,0.3,0.1c0,0,0,0,0,0c0.1,0,0.2,0,0.2-0.1l11.5-12.5 l7.9,4.5c0.1,0,0.1,0,0.2,0c0,0,0.1,0,0.1,0c0.1,0,0.2-0.1,0.2-0.2l1.7-10.3l11-3.3c0.1,0,0.2-0.2,0.2-0.3c0-0.2-0.1-0.3-0.3-0.3 L0.4,0c0,0,0,0,0,0c0,0-0.1,0-0.1,0c0,0-0.1,0-0.1,0.1c0,0,0,0,0,0c0,0,0,0,0,0c0,0,0,0-0.1,0.1c0,0,0,0.1,0,0.1c0,0,0,0,0,0 c0,0,0,0,0,0c0,0,0,0.1,0,0.1C0,0.4,0,0.5,0.1,0.5z M42.1,24.2l-0.9-1l1.5-9.2l1,0.3L42.1,24.2z M39.6,13l-1.2,7l-1-1.1l1.1-6.3 L39.6,13z M41.1,13.5l-1.3,8l-1-1.1l1.2-7.3L41.1,13.5z M42.5,13.9l-1.5,9l-1-1.1l1.4-8.2L42.5,13.9z M41.3,23.7L34.7,20l1.7-1.8 l0.8,0.9c0,0,0,0.1,0.1,0.1L41.3,23.7z M36.1,17.6l0.9-5.4l1.3,0.4l-1,6.1l-0.7-0.8c0,0,0,0,0,0c0,0,0,0,0,0c0,0,0,0,0,0 c0,0,0,0,0,0L36.1,17.6z M34.7,16.9l0.9-5.2l1,0.3l-0.9,5.4L34.7,16.9z M33.4,16.3l0.8-5l1,0.3l-0.9,5.2L33.4,16.3z M32,15.6 l0.8-4.8l1.1,0.4l-0.8,4.9L32,15.6z M30.6,14.9l0.8-4.5l1.1,0.3l-0.8,4.7L30.6,14.9z M29.2,14.3L30,9.9l1.1,0.3l-0.8,4.5L29.2,14.3z M27.9,13.6l0.7-4.1l1,0.3l-0.7,4.3L27.9,13.6z M26.6,13l0.7-3.9l1,0.3l-0.7,4.1L26.6,13z M25.3,12.3l0.6-3.7l1,0.3l-0.6,3.8 L25.3,12.3z M24,11.7l0.6-3.5l1,0.3L25,12.2L24,11.7z M22.5,11l0.5-3.2l1.1,0.4l-0.6,3.4L22.5,11z M21.2,10.3l0.5-3l1.1,0.3 l-0.5,3.2L21.2,10.3z M19.8,9.6l0.5-2.8l1.1,0.3l-0.5,3L19.8,9.6z M18.5,9l0.4-2.6l1,0.3l-0.5,2.7L18.5,9z M17.1,8.4L17.5,6l1,0.3 l-0.4,2.5L17.1,8.4z M15.8,7.7l0.4-2.2l1,0.3l-0.4,2.3L15.8,7.7z M14.5,7.1l0.3-1.9l1,0.3l-0.4,2.1L14.5,7.1z M13.1,6.4l0.3-1.7 L14.5,5l-0.3,1.9L13.1,6.4z M11.7,5.7l0.3-1.5l1.1,0.4l-0.3,1.7L11.7,5.7z M10.5,5.1l0.2-1.3l0.9,0.3l-0.2,1.4L10.5,5.1z M9,4.4 l0.2-1.1l1.2,0.4l-0.2,1.2L9,4.4z M7.7,3.7l0.1-0.8l1,0.3l-0.2,1L7.7,3.7z M6.3,3.1l0.1-0.6l1,0.3L7.4,3.6L6.3,3.1z M5,2.4L5.1,2 l1,0.3L6,2.9L5,2.4z M3.6,1.7l0-0.2l1.1,0.4L4.7,2.3L3.6,1.7z M2.4,1.2l0.9,0.3l0,0.1L2.4,1.2z M53.9,11l-9.9,3c0,0,0,0,0,0 C44,14,44,14,43.9,14L4.4,1.5L53.9,11z M1.1,0.9L36.1,18l-1.7,1.8c-0.1,0-0.2,0-0.3,0.1l0,0L22.7,32.3L1.1,0.9z"></path> </svg>
<svg xmlns="http://www.w3.org/2000/svg" xmlns:xlink="http://www.w3.org/1999/xlink" version="1.1" id="tbojpdlxhb-Layer_1" x="0px" y="0px" viewBox="0 0 139.2 91.2" style="enable-background:new 0 0 139.2 91.2;" xml:space="preserve" fill="url(#tbojpdlxhb-design-gradient-1)"> <defs> <linearGradient id="tbojpdlxhb-design-gradient-1" x2="0%" y2="100%" gradientUnits="userSpaceOnUse"> <stop offset="10%"></stop> <stop offset="100%"></stop> </linearGradient> </defs> <path class="tbojpdlxhb-specialty-svg-01" d="M139.1,89.7l-51-89.2c-0.2-0.4-0.6-0.6-1-0.5L57.4,4.9C57,5,56.6,5.4,56.6,5.8l-1.4,14.1l-14-11.6 C41,8.1,40.7,8,40.4,8.1L0.8,14.9c-0.4,0.1-0.7,0.4-0.8,0.8s0.1,0.8,0.5,1l52.1,28.2l-0.3,3.2c0,0.4,0.2,0.8,0.6,1l85,42 c0.1,0.1,0.3,0.1,0.4,0.1c0.3,0,0.5-0.1,0.7-0.3C139.3,90.6,139.3,90.1,139.1,89.7z M107.1,73.7L54.3,47.6l0.3-2.7L107.1,73.7z M134.3,85.4L59,6.7l27.7-4.6L134.3,85.4z M57,21.9l1.5-14.4l1.7,1.8l-1.5,14.4l-1.8-1.5C56.9,22.1,56.9,22,57,21.9z M61,10.2 l2.2,2.3l-1.5,13.7l-2.1-1.8L61,10.2z M64.1,13.5l2.2,2.3l-1.4,13.1L62.6,27L64.1,13.5z M67.2,16.7l2,2.1l0,0l-1.4,12.5l-2-1.6 L67.2,16.7z M70.1,19.7l1.7,1.8l-1.2,12.1l-1.8-1.5L70.1,19.7z M72.7,22.5l1.7,1.8l-1.2,11.5l-1.7-1.4L72.7,22.5z M75.3,25.2 l2.2,2.3l-1.1,10.9l-2.2-1.8L75.3,25.2z M78.4,28.4l2.1,2.1l-1.1,10.3l-2.1-1.7L78.4,28.4z M81.4,31.5l1.8,1.9l-1,9.8l-1.8-1.5 L81.4,31.5z M84.1,34.3l1.8,1.9l-0.9,9.3l-1.8-1.5L84.1,34.3z M86.8,37.1l1.9,2l-0.9,8.7l-1.9-1.6L86.8,37.1z M89.6,40l2.2,2.3 L91,50.5l-2.3-1.9L89.6,40z M92.7,43.3l2,2.1l-0.8,7.5l-2-1.7L92.7,43.3z M95.6,46.3l2.3,2.4l0,0l-0.7,6.8l-2.4-2L95.6,46.3z M98.8,49.7l1.9,2l-0.6,6.3l-1.9-1.6L98.8,49.7z M101.6,52.6l1.9,2l-0.6,5.7l-2-1.6L101.6,52.6z M104.4,55.6l2.4,2.5l-0.5,5l-2.4-2 L104.4,55.6z M107.7,59l2.2,2.3l-0.5,4.4l-2.3-1.9L107.7,59z M110.9,62.3l1.9,2l-0.4,3.9l-1.9-1.6L110.9,62.3z M113.7,65.3l2.1,2.2 l-0.3,3.3l-2.1-1.7L113.7,65.3z M116.6,68.4l2.1,2.2l-0.3,2.7l-2.1-1.7L116.6,68.4z M119.6,71.5L122,74l-0.2,2l-2.5-2.1L119.6,71.5z M122.9,74.9l1.9,2l-0.1,1.4l-1.9-1.6L122.9,74.9z M125.7,77.9l2.6,2.7l-0.1,0.7l-2.7-2.2L125.7,77.9z M129.2,81.5l2.7,2.8l-2.8-2.3 L129.2,81.5z M4,16.3l36.3-6.2l15,12.5c0.2,0.2,0.5,0.2,0.7,0.2L133,86.5l-4.8-2.4L54.3,43.6c0,0-0.1-0.1-0.1-0.1L4,16.3z"></path> </svg>
<svg xmlns="http://www.w3.org/2000/svg" xmlns:xlink="http://www.w3.org/1999/xlink" version="1.1" id="tbojpdlxhb-Layer_1" x="0px" y="0px" viewBox="0 0 139.2 91.2" style="enable-background:new 0 0 139.2 91.2;" xml:space="preserve" fill="url(#tbojpdlxhb-design-gradient-1)"> <defs> <linearGradient id="tbojpdlxhb-design-gradient-1" x2="0%" y2="100%" gradientUnits="userSpaceOnUse"> <stop offset="10%"></stop> <stop offset="100%"></stop> </linearGradient> </defs> <path class="tbojpdlxhb-specialty-svg-01" d="M139.1,89.7l-51-89.2c-0.2-0.4-0.6-0.6-1-0.5L57.4,4.9C57,5,56.6,5.4,56.6,5.8l-1.4,14.1l-14-11.6 C41,8.1,40.7,8,40.4,8.1L0.8,14.9c-0.4,0.1-0.7,0.4-0.8,0.8s0.1,0.8,0.5,1l52.1,28.2l-0.3,3.2c0,0.4,0.2,0.8,0.6,1l85,42 c0.1,0.1,0.3,0.1,0.4,0.1c0.3,0,0.5-0.1,0.7-0.3C139.3,90.6,139.3,90.1,139.1,89.7z M107.1,73.7L54.3,47.6l0.3-2.7L107.1,73.7z M134.3,85.4L59,6.7l27.7-4.6L134.3,85.4z M57,21.9l1.5-14.4l1.7,1.8l-1.5,14.4l-1.8-1.5C56.9,22.1,56.9,22,57,21.9z M61,10.2 l2.2,2.3l-1.5,13.7l-2.1-1.8L61,10.2z M64.1,13.5l2.2,2.3l-1.4,13.1L62.6,27L64.1,13.5z M67.2,16.7l2,2.1l0,0l-1.4,12.5l-2-1.6 L67.2,16.7z M70.1,19.7l1.7,1.8l-1.2,12.1l-1.8-1.5L70.1,19.7z M72.7,22.5l1.7,1.8l-1.2,11.5l-1.7-1.4L72.7,22.5z M75.3,25.2 l2.2,2.3l-1.1,10.9l-2.2-1.8L75.3,25.2z M78.4,28.4l2.1,2.1l-1.1,10.3l-2.1-1.7L78.4,28.4z M81.4,31.5l1.8,1.9l-1,9.8l-1.8-1.5 L81.4,31.5z M84.1,34.3l1.8,1.9l-0.9,9.3l-1.8-1.5L84.1,34.3z M86.8,37.1l1.9,2l-0.9,8.7l-1.9-1.6L86.8,37.1z M89.6,40l2.2,2.3 L91,50.5l-2.3-1.9L89.6,40z M92.7,43.3l2,2.1l-0.8,7.5l-2-1.7L92.7,43.3z M95.6,46.3l2.3,2.4l0,0l-0.7,6.8l-2.4-2L95.6,46.3z M98.8,49.7l1.9,2l-0.6,6.3l-1.9-1.6L98.8,49.7z M101.6,52.6l1.9,2l-0.6,5.7l-2-1.6L101.6,52.6z M104.4,55.6l2.4,2.5l-0.5,5l-2.4-2 L104.4,55.6z M107.7,59l2.2,2.3l-0.5,4.4l-2.3-1.9L107.7,59z M110.9,62.3l1.9,2l-0.4,3.9l-1.9-1.6L110.9,62.3z M113.7,65.3l2.1,2.2 l-0.3,3.3l-2.1-1.7L113.7,65.3z M116.6,68.4l2.1,2.2l-0.3,2.7l-2.1-1.7L116.6,68.4z M119.6,71.5L122,74l-0.2,2l-2.5-2.1L119.6,71.5z M122.9,74.9l1.9,2l-0.1,1.4l-1.9-1.6L122.9,74.9z M125.7,77.9l2.6,2.7l-0.1,0.7l-2.7-2.2L125.7,77.9z M129.2,81.5l2.7,2.8l-2.8-2.3 L129.2,81.5z M4,16.3l36.3-6.2l15,12.5c0.2,0.2,0.5,0.2,0.7,0.2L133,86.5l-4.8-2.4L54.3,43.6c0,0-0.1-0.1-0.1-0.1L4,16.3z"></path> </svg>
<svg xmlns="http://www.w3.org/2000/svg" xmlns:xlink="http://www.w3.org/1999/xlink" version="1.1" id="gtcidjkwcb-Layer_1" x="0px" y="0px" viewBox="0 0 55.7 33.1" style="enable-background:new 0 0 55.7 33.1;" xml:space="preserve" fill="url(#gtcidjkwcb-design-gradient-1)"> <defs> <linearGradient id="gtcidjkwcb-design-gradient-1" x2="0%" y2="100%" gradientUnits="userSpaceOnUse"> <stop offset="10%"></stop> <stop offset="100%"></stop> </linearGradient> </defs> <path class="gtcidjkwcb-specialty-svg-02" d="M0.1,0.5C0.1,0.5,0.1,0.5,0.1,0.5L22.4,33c0.1,0.1,0.1,0.1,0.3,0.1c0,0,0,0,0,0c0.1,0,0.2,0,0.2-0.1l11.5-12.5 l7.9,4.5c0.1,0,0.1,0,0.2,0c0,0,0.1,0,0.1,0c0.1,0,0.2-0.1,0.2-0.2l1.7-10.3l11-3.3c0.1,0,0.2-0.2,0.2-0.3c0-0.2-0.1-0.3-0.3-0.3 L0.4,0c0,0,0,0,0,0c0,0-0.1,0-0.1,0c0,0-0.1,0-0.1,0.1c0,0,0,0,0,0c0,0,0,0,0,0c0,0,0,0-0.1,0.1c0,0,0,0.1,0,0.1c0,0,0,0,0,0 c0,0,0,0,0,0c0,0,0,0.1,0,0.1C0,0.4,0,0.5,0.1,0.5z M42.1,24.2l-0.9-1l1.5-9.2l1,0.3L42.1,24.2z M39.6,13l-1.2,7l-1-1.1l1.1-6.3 L39.6,13z M41.1,13.5l-1.3,8l-1-1.1l1.2-7.3L41.1,13.5z M42.5,13.9l-1.5,9l-1-1.1l1.4-8.2L42.5,13.9z M41.3,23.7L34.7,20l1.7-1.8 l0.8,0.9c0,0,0,0.1,0.1,0.1L41.3,23.7z M36.1,17.6l0.9-5.4l1.3,0.4l-1,6.1l-0.7-0.8c0,0,0,0,0,0c0,0,0,0,0,0c0,0,0,0,0,0 c0,0,0,0,0,0L36.1,17.6z M34.7,16.9l0.9-5.2l1,0.3l-0.9,5.4L34.7,16.9z M33.4,16.3l0.8-5l1,0.3l-0.9,5.2L33.4,16.3z M32,15.6 l0.8-4.8l1.1,0.4l-0.8,4.9L32,15.6z M30.6,14.9l0.8-4.5l1.1,0.3l-0.8,4.7L30.6,14.9z M29.2,14.3L30,9.9l1.1,0.3l-0.8,4.5L29.2,14.3z M27.9,13.6l0.7-4.1l1,0.3l-0.7,4.3L27.9,13.6z M26.6,13l0.7-3.9l1,0.3l-0.7,4.1L26.6,13z M25.3,12.3l0.6-3.7l1,0.3l-0.6,3.8 L25.3,12.3z M24,11.7l0.6-3.5l1,0.3L25,12.2L24,11.7z M22.5,11l0.5-3.2l1.1,0.4l-0.6,3.4L22.5,11z M21.2,10.3l0.5-3l1.1,0.3 l-0.5,3.2L21.2,10.3z M19.8,9.6l0.5-2.8l1.1,0.3l-0.5,3L19.8,9.6z M18.5,9l0.4-2.6l1,0.3l-0.5,2.7L18.5,9z M17.1,8.4L17.5,6l1,0.3 l-0.4,2.5L17.1,8.4z M15.8,7.7l0.4-2.2l1,0.3l-0.4,2.3L15.8,7.7z M14.5,7.1l0.3-1.9l1,0.3l-0.4,2.1L14.5,7.1z M13.1,6.4l0.3-1.7 L14.5,5l-0.3,1.9L13.1,6.4z M11.7,5.7l0.3-1.5l1.1,0.4l-0.3,1.7L11.7,5.7z M10.5,5.1l0.2-1.3l0.9,0.3l-0.2,1.4L10.5,5.1z M9,4.4 l0.2-1.1l1.2,0.4l-0.2,1.2L9,4.4z M7.7,3.7l0.1-0.8l1,0.3l-0.2,1L7.7,3.7z M6.3,3.1l0.1-0.6l1,0.3L7.4,3.6L6.3,3.1z M5,2.4L5.1,2 l1,0.3L6,2.9L5,2.4z M3.6,1.7l0-0.2l1.1,0.4L4.7,2.3L3.6,1.7z M2.4,1.2l0.9,0.3l0,0.1L2.4,1.2z M53.9,11l-9.9,3c0,0,0,0,0,0 C44,14,44,14,43.9,14L4.4,1.5L53.9,11z M1.1,0.9L36.1,18l-1.7,1.8c-0.1,0-0.2,0-0.3,0.1l0,0L22.7,32.3L1.1,0.9z"></path> </svg>
Earning a place in industry publications
Exclusive features in trade magazines let a valve manufacturer expand its reach
Earning a place in industry publications
Exclusive features in trade magazines let a valve manufacturer expand its reach
Ask
A long-time client, ACS Valves was already leveraging Motum B2B's content creation for blogs and newsletters when the rotary valve manufacturer asked, "How can we get these great articles in front of a broader audience?"

Solution
To share original, niche content with a vast but targeted audience, we did a business media audit to pinpoint trade publications in ACS' wheelhouse. We then connected with the magazine editors at a trade show, where we shared our existing work and pitched new ideas for exclusives. Once they realized we create magazine-quality, industry-specific stories, the editors were quick to snap them up.
We now submit ACS articles for industry publications as quickly as we can write them. And they're not just postage-stamp product listings — we're talking double-page-spread features about major industry trends. The best part? The two magazines we contribute to the most have a reach of close to 70,000 readers each.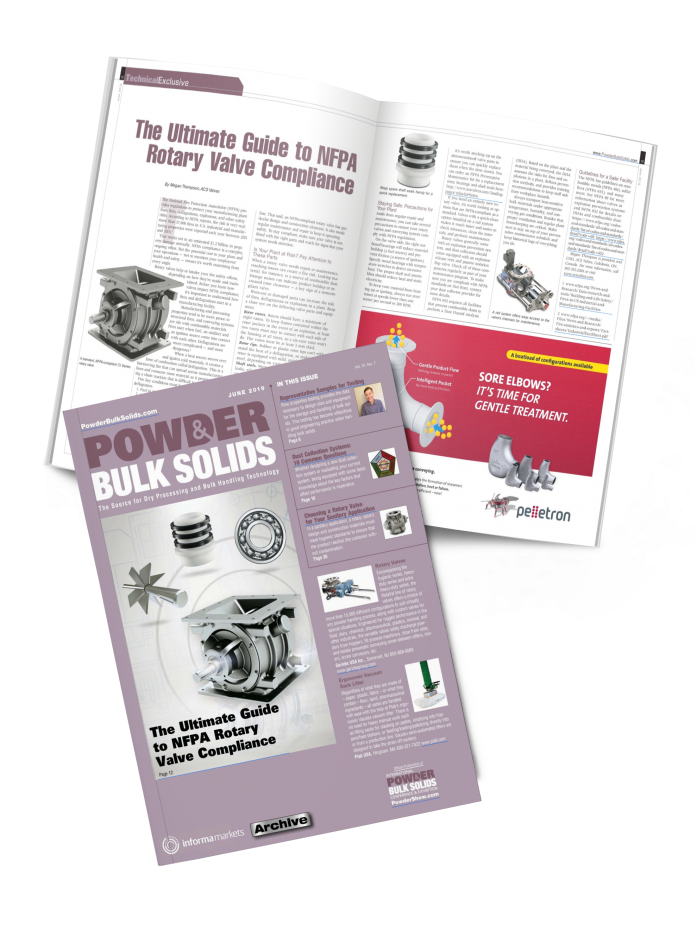 Want to get your story told — and, more importantly, read? We can help.
Tell my story.