Twitter trolls and you: Disarm without harm
Or how to kill Twitter trolls with kindness, humour, and honesty
Any good social media marketer worth their salt knows that when it comes to creating a social strategy and deciding which platforms to market a product or service on, Twitter is always a top contender. It's a great platform to get your message out quickly and efficiently while participating in conversations and keeping up to date on recent events.
But, let's be honest, signing onto Twitter lately has felt a lot like this:
It wasn't always this way, though. In fact, Twitter used to be a lot of fun and given the preferred circumstance and hashtags, it still can be. Unfortunately, its reputation precedes itself and it hasn't always been sterling.
Despite trying to curb bullying and despite doubling their character count, Twitter brings our world into full view, warts and all.
You've probably heard horror stories or maybe you've experienced bullying first hand. I have and quite frankly, it wasn't nice. I even considered sharing my experience and the name of the individual for this piece, but having just finished "So You've Been Publicly Shamed" by Jon Ronson, it's not a table I want to take a seat at. I've got better things to do with my time.
Like look at memes and watch funny dog GIFS.
But back to using Twitter for marketing purposes. Despite the negatives, there's no denying that Twitter is an invaluable tool. Some businesses can write a master class on how to handle the Twitter populous. The home of the Baconator, Wendy's, is one such business: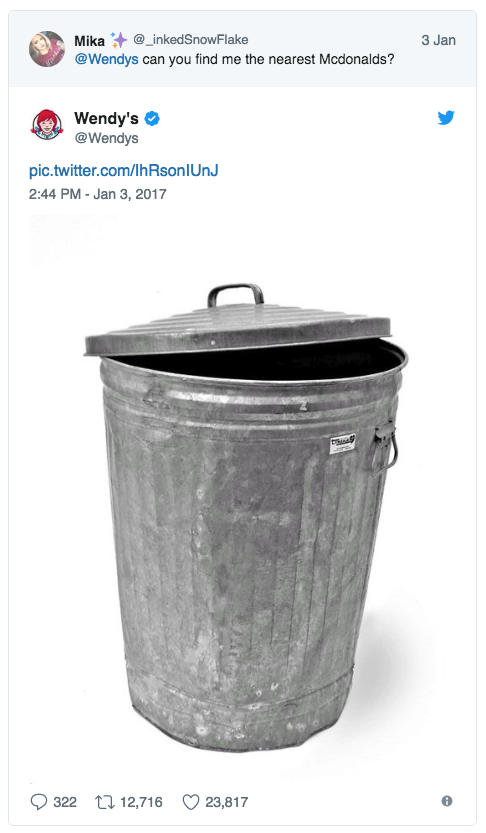 Using humor and wit that cuts like a hot knife through butter, Wendy's doesn't back down from trolls and neutralizes negative comments with ease. It's a tactic that works because it's an off-the-cuff retort that doesn't feel like a canned corporate response and leaves a positive sentiment with everyone involved, roastie included*.
*Recent exceptions may include whoever manages McDonald's Twitter account.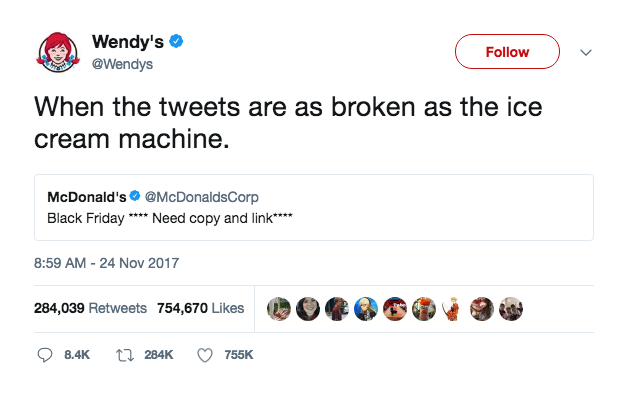 So, what about using Twitter for B2B marketing purposes? Would your business be immune to trolling or having a faceless Twitter handle disparage your product? I can tell you right now no one is immune. When you use Twitter, and especially when you delve into paid promotion to expand beyond your organic reach, you're going to cross a couple of bridges and their resident trolls. But, it's nothing that can't be handled.
Having organized and implemented numerous paid social campaigns for some of our clients, I've had my fair share of run-ins with individuals who think they're regular Dane Cooks. Some are funny, others aren't, and some can be downright rude. So how do I handle these interactions? I like to take two approaches that fit with the client and the voice I've established for their online presence:
Humour
November 1, 2017
And unabashed honesty
Hey Rosemerry, we don't really see it as messing up. We're exploring new avenues to make people aware of our rotary valves. And besides, if you're in the valve industry and you saw our promoted tweet we must be doing something right :)

— ACS Valves (@ACSvalves) November 8, 2017
There's something disarming about being honest on Twitter without taking yourself too seriously. Not only do you deflate the negativity of the tweet, you also take control of the conversation by not engaging with a negative response. It's an approach that works, you just need to make sure your response fits with the voice and tone of your brand.
Let's face facts, Twitter is home to a lot of negativity, but just remember this: